Fast Facts
Growing Tech Community – over 1,000 startups now call the region home, and the D.C. Tech Meetup boasts over 25,000 members
Deep Bench – the top producer of computer science graduates annually and a top 5 talent pool in software development in the U.S.
Diversity Realized – women are 2x as likely and African Americans 5x are as likely to work in tech in NOVA than in Silicon Valley
Innovate – partnerships abound in NOVA, whether it is between the 23 Fortune 1,000 companies, dozens of federal agencies and R&D organizations, or leading universities. Virginia's leadership position in information technology provides a launch point for growth in emerging life sciences disciplines like health IT and personalized medicine
Capital In The Capital – venture capital investments in the D.C. region topped $1.55 billion in 2017, but in NOVA startups can also access capital through a variety of public and private sources like the Center for Innovative Technology's Growth Acceleration Program and the Virginia is for Entrepreneurs network
Appian is proud to be based in Northern Virginia. In our journey from start-up to IPO, we've found everything we needed in the region.

Matt Calkins Founder & CEO, Appian
The greater D.C. area has more annual computer science graduates than any other metropolitan area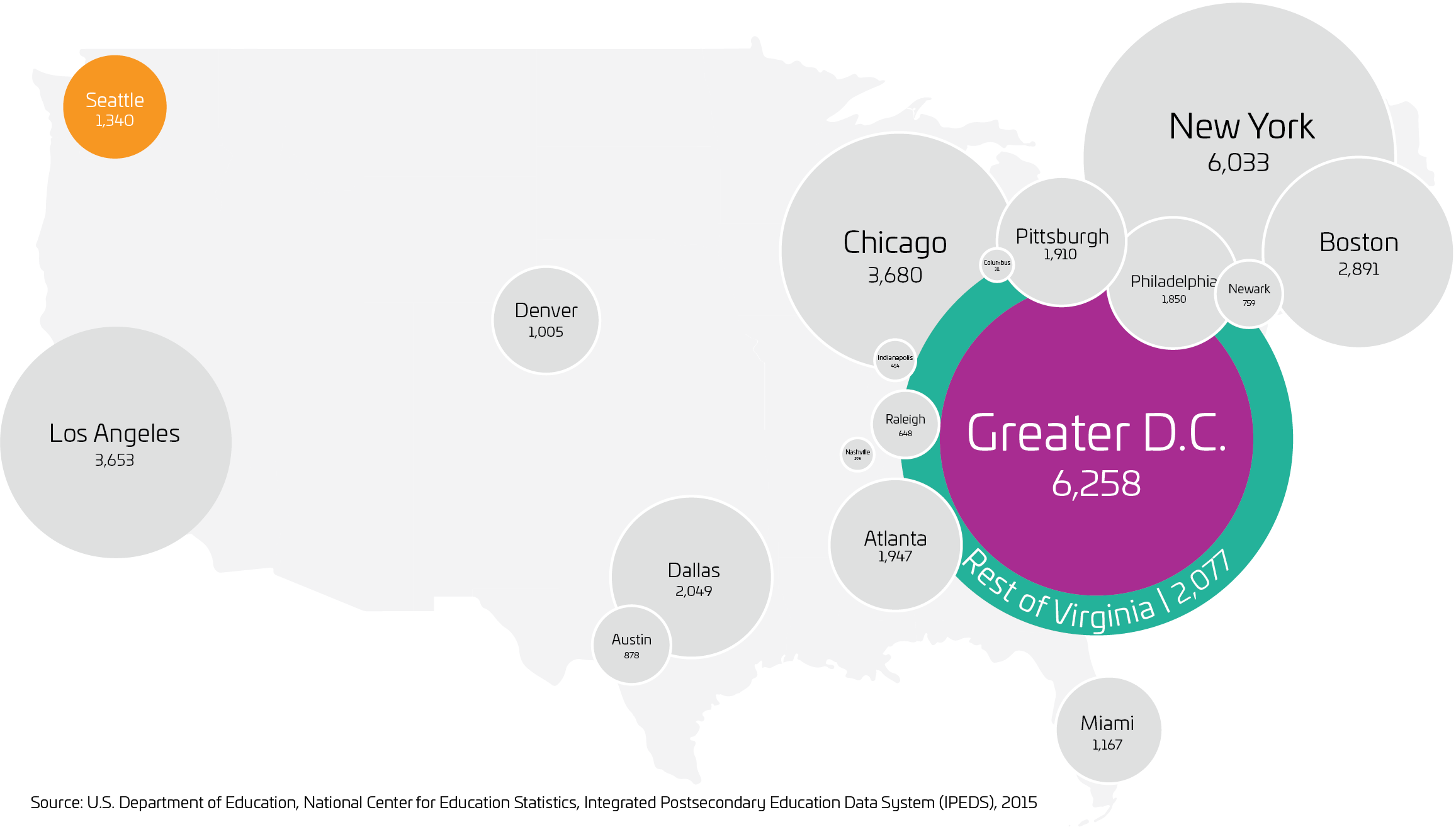 Why NOVA?
Northern Virginia brings several distinctive, high-impact assets to the table for tech.
North America's top producer of tech talent.  Greater Washington is the country's most educated region, and it produces more computer science graduates than any other metropolitan area. The region also has a ready base of talent, with the country's third-largest pool of software developers and fourth-largest pool of management and legal professionals. The combination of depth, concentration, and growth of talent available in the Washington, D.C. metro area, with additional tech talent production from Virginia's world-class higher education system, ensures NOVA maintains and enhances its edge with access to the best and brightest. 

Nearly 50% of those 25 and older have at least a bachelor's degree

A global and inclusive region... Greater Washington is a global power center, the capital of global democracy, and one of the country's most racially, ethnically, and internationally diverse regions. Women are twice as likely, and African Americans five times as likely, to work in the technology sector in NOVA than in Silicon Valley. Approximately one in four of its residents was born outside the United States, and the children in NOVA schools speak ~100 native languages. Communities in NOVA are ranked among the most LGBTQ-friendly nationwide, and diversity is one the region's core strengths.
...on a human scale. NOVA offers something for everyone, with access to some of the country's most interesting cultural and historical sites, sports teams in all major leagues, and a dynamic food and wine scene. The area is home to a broad range of outdoor activities, from kayaking on the Potomac to hiking in the nearby Shenandoah National Park, all as part of a mild four-season climate. The region offers a diversity of housing options, some of the country's top-ranked public schools, and one of the country's top-rated public transit systems. 
The leading metro for public and private sector innovation. Innovation is in our lifeblood. The metro region's legacy of transformative technologies transcends sectors, from the Defense Advanced Research Projects Agency's (DARPA) role in inventing the internet and voice-recognition systems; to public/private collaboration to create more than 70 miles of automated corridors for connected and autonomous vehicle testing; to the region's history as the foundation of the telecom revolution and our current depth of technology companies; and to the National Science Foundation (NSF), whose grant funding through the Digital Library Initiative supported the research and eventual foundation of Google, Inc.— we sit uniquely at the nexus of public and private innovation. 

No. 4 Best State for Business 

Forbes, 2018

A stable and competitive partner with a legacy of exceptional governance. Virginia is consistently rated among the best states in which to do business by leading publications, and Northern Virginia local governments are well-managed, have a history of visionary leadership, and a commitment to innovation. Of all the Fortune 500 companies based in the greater D.C. area, two-thirds have chosen to locate in NOVA. In 2017, U.S. News & World Report ranked Virginia as the No. 2 best state for governance, considering fiscal stability, budget transparency, and state integrity.
Local Partners

Featured Startups at Collision
4Stay
Find your next perfect stay.
BCMstrategy, Inc.
Helping people make smarter strategic decisions using patented predictive analytics that quantifies public policy risk.
EdConnective
Fostering teacher growth to impact student achievement.
Explanation Kids
Explanation Kids is web-based application and media platform for teachers and parents that provides thoughtful responses to kids' tough questions about issues in our country.
Guardian Savings
Prepare your children for financial success.
HealthFlow
Empowering care coordination and improved outcomes through secure and transparent, patient-centric design.
Huddle
A plan for every learner.
Intuidot
We make cutting edge technology easy.
Koios
We help public libraries improve their online visibility and connect with their communities.
Lovelytics
Lovelytics uses data and geospatial analytics to help organizations visualize data.
Medliminal
Medliminal specializes in medical cost containment and offers our clients focused and innovative solutions and services through our advanced Robotic Process Automation (RPA), known as H-CAT™, designed to reduce healthcare costs to all payers on a national level.
NOVI LLC
NOVI is developing the next generation of advanced spacecraft and geo-analytics platforms for an emerging new space industry.
Oplign, LLC
Oplign is an AI driven SaaS company that automates the alignment of people and jobs, with a special emphasis on aligning Veterans and Military Spouses to the right opportunities in the marketplace.
Plutus Privacy Security, Inc
Plutus Privacy Security, Inc is a veteran-owned cybersecurity company, and its focus is to protect the most priced asset — YOU.
Serpin Pharma
Our mission is to develop anti-inflammatory and immune-modulating drugs for treatment of a broad range of inflammatory, autoimmune, and infectious diseases.
Service Robotics & Technologies
Creating smarter buildings.
SmartBridge Health
SmartBridge Health proves that optimal cancer care can be accessible and affordable for all.
Virgil Security
Virgil Security is a Manassas-based startup founded by industry veterans that democratizes access to state-of-the-art cryptographic technology.