Assets
The deep talent pool and competitive costs in Virginia have proven to be reasons why major business services companies have located customer service, BPO centers, and other service operations around the Commonwealth. Great places to live along with a top-ranked higher education system make Virginia an ideal location to attract and retain a world-class workforce.
Read More
Significant BPO clusters naturally exist in Virginia's metro areas as a result of talent pipeline, robust connectivity, and access to markets. Virginia's middle market cities and rural locations can serve as attractive options for companies seeking to relocate operations centers of excellence out of higher-cost areas. 
Virginia's successes in services operations are evident throughout the state. Recent expansions include ADP (Norfolk), CoStar Group(Richmond), GEICO (Fredericksburg), Navy Federal Credit Union (Frederick County), Pacific Life Insurance (Lynchburg), and SYKES Enterprises (Wise).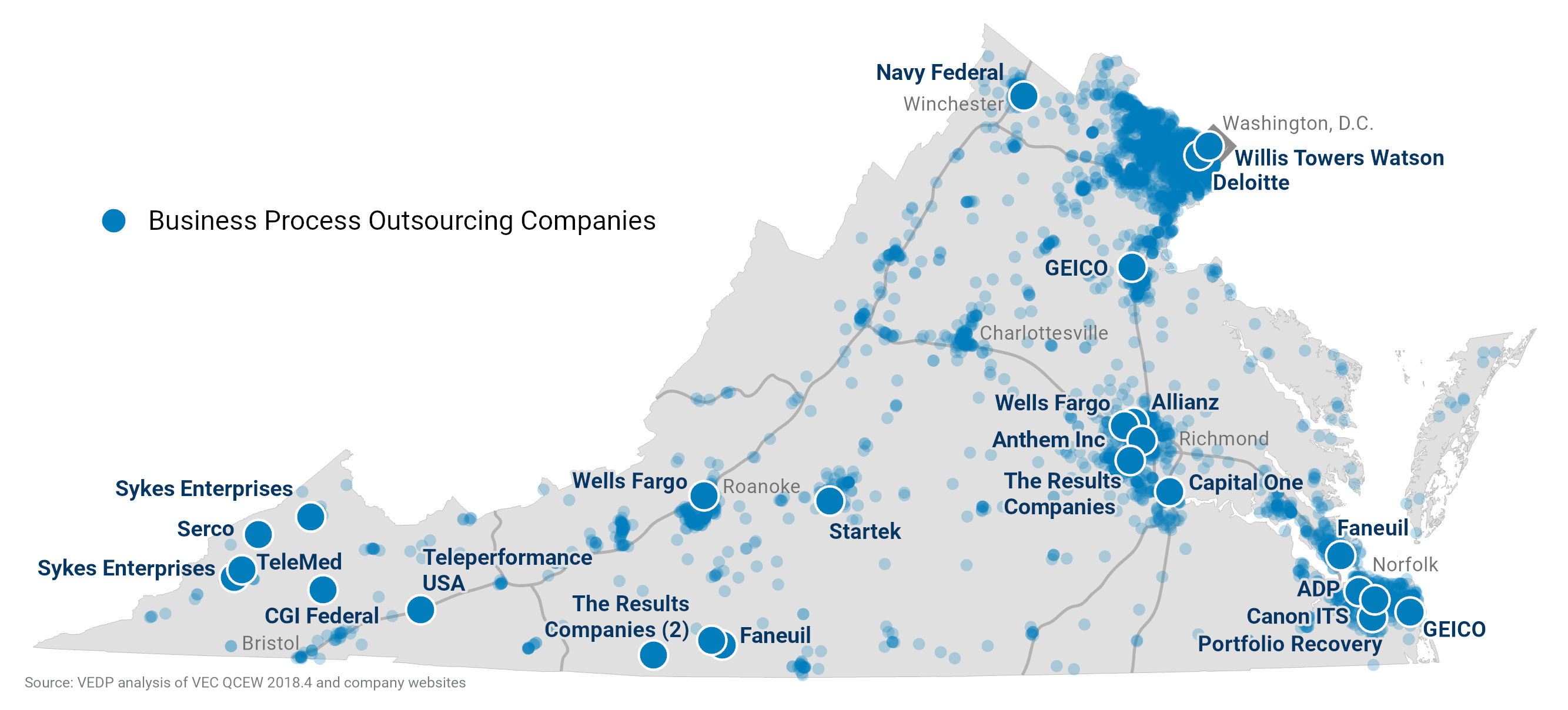 College Towns
Best State for Higher Education
Smart Asset, 2019
Virginia's esteemed colleges and universities are located in some of the greatest college towns in the country, and many young grads want to stay in these areas. Blacksburg, home to Virginia Tech, is the location of the Virginia Tech Corporate Research Center, with over 3,300 employees and nearly 200 companies. You will find similar examples throughout Virginia; in Harrisonburg, Lynchburg, Charlottesville, and Wise. Larger cities in Virginia also have a major student presence, like Richmond, Norfolk, and Fredericksburg, serving as a rich base of recruitable talent for a company's operations.
The pipeline of young talent graduating from Virginia's universities in rural locations makes them attractive for BPO and service centers. Quality of life combined with a low cost of living are distinct advantages for rural-based service centers – examples exist throughout rural Virginia in places like Buchanan County, where Sykes Enterprises expanded employment by 100 to serve its global client base.
Great Place to Live
#3 (Charlottesville) & # 15 (Norfolk) & #11 (Fredericksburg) – Places Young People are Moving 
24/7 Wall St., 2019
Virginia has emerged as a magnet for young talent, many of whom come from in-state or regional universities. Virginia's diverse, affordable, and authentic communities provide a great place for young talent to live. The local restaurant scene in many regions is thriving, there are a multitude of outdoor activities, and the craft beer culture is booming. The Commonwealth is where young talent wants to be.
A company will find all of the amenities necessary to recruit and retain a professional workforce in Virginia, including colleges and universities that offer specialized business and technical degrees.
Virginia is Well Connected
Virginia's central East Coast position allows for quick and convenient access to other major company operations. International locations in Asia and Europe can be accessed quickly via  nonstop flights from Washington Dulles International Airport. Service is available from 16 airports that serve Virginia, ensuring gateways to national and global markets. 
Virginia is home to a robust technology infrastructure, with the largest data center market in the U.S. concentrated in Northern Virginia. As a result, the region boasts the highest density of dark fiber in the world. In addition to Northern Virginia, advanced levels of connectivity are seen throughout Virginia. As of 2019, the Mid-Atlantic Broadband Communities Corporation owns and operates 1,900 miles of open-access fiber optic network in 31 counties in Southern Virginia and operates long-haul fiber network for optical transport to key peering hubs on the East Coast. Virginia Beach now is the landing point for three new, transoceanic fiber cable connection points – the first in the Mid-Atlantic.
Workforce
Virginia has a deep and versatile available talent pool to meet a company's needs, fed by one of the country's largest and most successful higher education systems, which ensures a pipeline of skilled, educated workers.
Read More
Higher Education
Virginia's universities are training the talent of tomorrow. Virginia is known for its world-class higher education system that provides a strong pipeline of new graduates from local and regional universities. The Virginia Community College System, comprising 23 community colleges, provides occupational and technical training programs, many of which are designed specifically to meet the needs of nearby industries.
In the 2017-2018 academic year, Virginia's higher education system graduated over 10,000 students with business management and related degrees.
| | |
| --- | --- |
| Business/Commerce, General | 1,257 |
| Business Administration, Management and Operations | 4,526 |
| Accounting and Related Services | 1,448 |
| Business Operations Support and Assistant Services | 169 |
| Business/Managerial Economics | 213 |
| Finance and Financial Management Services | 746 |
| Human Resources Management and Services | 183 |
| International Business | 92 |
| Management Information Systems and Services | 152 |
| Management Sciences and Quantitative Methods | 744 |
| Marketing | 809 |
| General Sales, Merchandising and Related Marketing Operations | 10 |
| Specialized Sales, Merchandising and Marketing Operations | 40 |
| Total | 10,389 |
Source: NCES, IPEDS, 2018
Virginia schools graduated an additional 9,000 degrees through online programs in these same areas, with many recipients residing in Virginia.
Virginia Community Colleges Offering Customer Service Representative or Related Credentials

Blue Ridge
Customer Service and Sales Certification
Central Virginia
Customer Service and Sales Certification
Eastern Shore
Customer Service and Sales Certification
J. Sargeant Reynolds
Customer Service and Sales Certification
John Tyler

Customer Service and Sales Certification

Customer Service Representative

Mountain Empire
Customer Service Representative
New River
Customer Service Representative
Northern Virginia
Customer Service Representative
Patrick Henry
Customer Service Representative
Paul D. Camp
Customer Service and Sales Certification
Piedmont Virginia
Customer Service and Sales Certification
Rappahannock
Customer Service and Sales Certification
Southside Virginia
Customer Service and Sales Certification
Southwest Virginia
Customer Service and Sales Certification
Tidewater
Customer Service and Sales Certification
Virginia Western
Customer Service and Sales Certification
Virginia's Military
Virginia has the 4th-largest population of working age veterans in the country
U.S. Department of Veterans Affairs, 2019
Virginia's large military presence contributes to a robust workforce, with large populations of military spouses who serve as an additional source of talent for business services operations.
For us, what is most important is our people. There is a natural kind of charm, here in Wise County; It just felt like home. On our very first day we came here, we had folks welcoming us. We feel like there are just great people here to help us take care of our customers.

Todd McReynolds Assistant Vice President Customer Care, Frontier Secure
Business Climate
Consistently ranked as one of the top states for business, Virginia is home to many major business services operations. Virginia offers a low cost of operations, stable taxes, and an acclaimed business environment. But more than that, the Commonwealth has a demonstrated capability – and desire – to partner with companies to find success and grow in Virginia.
Read More
Virginia offers a competitive cost environment for business services operations:
Electricity rates in 2019 are below the U.S. average at 6.24 cents per kilowatt hour vs. 7.01 cents nationally.
Unemployment insurance taxes are the 5th-lowest in the nation and 43% lower than the national average.
Average workers' compensation costs are among the nation's lowest.
Building costs range from 7% to 19% below the national average, depending on the region.
Virginia boasts a number of cities around or below the national average in the 2019 ACCRA Annual Cost of Living Index: Lynchburg 95.9, Winchester 100.6, Roanoke 101.0, and Richmond 102.9.
Case Studies
ADP's Search for a Central Service Center
The global provider of cloud-based human capital management solutions wanted an urban space that could accommodate its needs and attract a strong pipeline of talent.
Read Case Study
CoStar Group Explores New Research Home
The largest real estate data firm in the U.S. wanted a home that will attract new college graduates – the majority of its workforce – and be affordable enough to retain talent.
Read Case Study
Navy Federal Credit Union Seeks Location to Grow
Navy Federal Credit Union needed to increase its workforce to meet current and future demand in a location that could accommodate major growth.
Read Case Study