Virginia Economic Review
Each issue of Virginia Economic Review will provide an insider look at Virginia's economy, its diverse array of world-class companies, its amazing talent, and its stunning natural beauty, as well as insights from national thought leaders.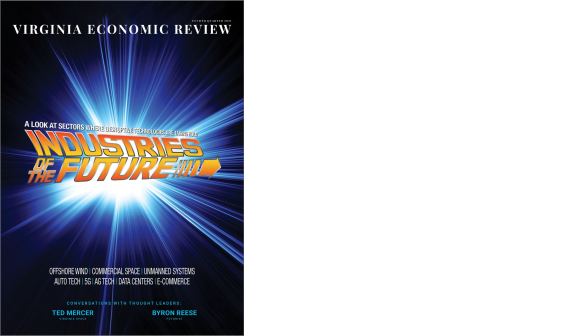 This issue explores eight innovation-driven industries with transformative potential in the United States.
This issue details the cybersecurity industry, including Virginia's leading position in cybersecurity talent development and the industry in general.
In 2018, Sabra broke ground on its third expansion, adding 40,000 square feet to the Chesterfield County plant for new cold storage space and more than doubling its finished goods storage capacity. The expansion also provided space for future packaging customization capabilities. The ever-growing Chesterfield County plant that produces Sabra hummus for all of America is a strong testament to Virginia's unique combination of advantages and resources for the booming food and beverage processing industry.
In January 2020, Mack Trucks announced a $13 million investment to establish its new medium-duty truck manufacturing operation in Roanoke County, just 45 miles from sister company Volvo Trucks, creating 250 jobs. As the first prototype-to-production automotive facility announced in Virginia, the new Mack MD Series truck is designed, engineered, and manufactured start to finish at the company's Roanoke County location.
Media Contact
Suzanne Clark
804.545.5600
sclark [at] vedp.org