Assets
Virginia's density of fiber, substantial existing industry, reliable and competitively priced power, strategic location, and low risk for natural disasters are a sample of the reasons it is the leading national location for the data center market.
Read More
Virginia's corporate roster includes leaders of the data center industry and cloud computing. Companies like Amazon Web Services, COPT, CyrusOne, Digital Realty, Equinix, Google, Facebook, Iron Mountain, Microsoft, OVH, QTS, and RagingWire all operate data centers in Virginia.
According to JLL, Northern Virginia is the largest market for data center space in the U.S., home to over 12 million square feet of commissioned data center space, representing over 800 megawatts of commissioned power. Much of the industry's presence is concentrated in Loudoun County, known as "Data Center Alley", and it is estimated that up to 70% of the world's internet traffic flows through Loudoun's data centers each day. Increasingly, many areas throughout the Commonwealth are seeing major data center investment.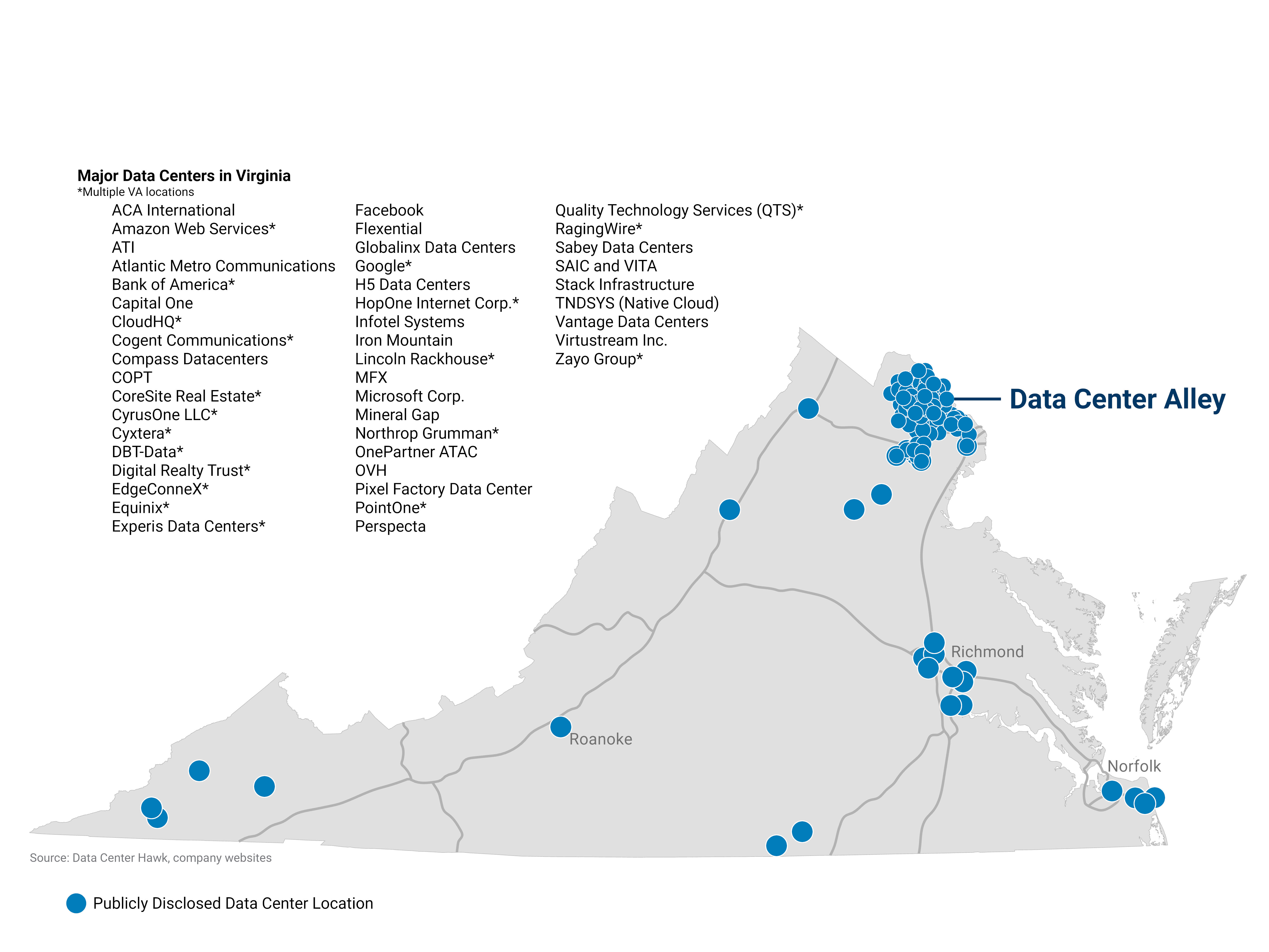 Connectivity
Virginia's data center dominance begins with access to the federal government and traces its roots to the U.S. government's experiments in wide-area fiber optic networking in the 1960s. In the 1990s, MAE-East was established in the area, with AOL building early fiber and power infrastructure. Equinix followed with its first data center in 1998, allowing companies carrier-neutral access to the internet. From these beginnings, the Northern Virginia region has grown to offer the highest density of dark fiber in the world.
In addition to Northern Virginia, advanced levels of connectivity are seen throughout the Commonwealth.
Mid-Atlantic Broadband Communities Corporation owns and operates 1,900 miles of open-access fiber optic network in 31 counties in Southern Virginia, and operates long-haul fiber network for optical transport to key peering hubs on the East Coast. Microsoft chose Mecklenburg County in Southern Virginia for a major data center site in 2010 and has invested nearly $2 billion in that location to date, citing access to fiber infrastructure as a primary incentive.
Virginia Beach is the landing point for four new transoceanic fiber cable connection points—the first in the Mid-Atlantic. 
MAREA, owned by Microsoft and Facebook and operated by Telxius, brought an ultra-high-speed ​200 terabit fiber optic cable from Bilbao, Spain, to Virginia Beach in 2018.
BRUSA, owned and operated by Telxius​, brought the second cable from Rio de Janeiro, Brazil, to Virginia Beach in the 2018. BRUSA is the highest capacity subsea cable connecting the Americas, with ultrafast transmission capacity reaching up to 138 Tbps.
SAEx will be the only system connecting South Africa directly to the U.S.
Dunant, owned and operated by Google, will connect the French Atlantic Coast to Virginia Beach in 2020 and will be the first private trans-Atlantic cable built by a non-telecom company.
Globalinx is building a carrier-neutral colocation facility in Corporate Landing Park in Virginia Beach to provide a platform for facilitating interconnections between subsea capacity and terrestrial fiber networks.
Power
Virginia's power costs are competitive among major data center markets. The primary power providers, Dominion Energy and AEP, have a track record of reliable delivery for data centers. The average cost per unit of electricity for the industrial sector was 6.24 cents in Virginia, compared to 7.01 cents for the nation. The 2018 industrial rate in Dominion Energy Virginia service territory is 5.9 cents, 31% below the national average. Heavy power users may qualify for economic development rate structures that will reduce their demand rate charge.
As increased user demand has called for new renewable energy resources, Virginia's electric providers have responded:
Dominion Energy Virginia is rapidly increasing the amount of renewable energy generation available to Virginia customers. Dominion Energy Virginia delivered over 360 MW of new solar capacity since 2017.
Dominion's solar capacity has increased over 630% since 2015 with nearly 895MW in operation or under development. Over the next 14 years, over 4,700 MW of new solar capacity is planned.
Dominion Energy offers multiple options to deliver 100% renewable energy to meet specific targets of data center users.
Additionally, Dominion Energy's Coastal Virginia Offshore Wind project plans to provide more than 3,000 MW by 2026.
Dominion Energy and Amazon Web Services (AWS) have partnered on six projects totaling 260 MW in Virginia that involve long-term power purchase agreements to provide solar energy to support AWS's renewable energy goals. Dominion has also committed to the construction of multiple solar facilities in the Commonwealth to service Facebook's Henrico Data Center with 100% renewable energy.
Microsoft announced in March 2018 the purchase of 315 MW of energy from Pleinmont I and II, two new solar projects in Virginia. This represents the single largest corporate purchase of solar energy ever in the United States.
Raging Wire, Loudoun County
Workforce
Virginia boasts one of the largest data center workforces in the U.S. -  more than 700 data processing, hosting, and related establishments in the state employ more than 14,600 people.
Read More
According to Cyberstates, Virginia ranks 5th in net tech employment and has the 2nd-highest concentration of tech employment in the country.
Virginia's tech workforce also shows a particular strength in the concentration of network and computer systems administrators.
| | | | |
| --- | --- | --- | --- |
| State | Employment | Jobs per 1,000 | Location Quotient |
| Virginia | 18,520 | 4.6 | 1.91 |
| New York  | 25,940 | 2.1 | 1.09 |
| California  | 36,900 | 2.4 | 0.86 |
| Florida  | 18,780 | 2.9 | 0.86 |
Source: BLS, OES, 2018
A number of workforce development programs in Virginia prepare a pipeline of talent for the data center industry.
The Tech Talent Investment Program (TTIP) is a performance-based initiative with 11 Virginia universities to create 31,000 new graduates in computer science and related fields in the next 20 years in excess of current levels. America's biggest investment in computer science education grew out of Virginia's proposal to Amazon, and will ensure a prepared and agile tech-talent pipeline across the Commonwealth.
Virginia Tech's Department of Computer Science systems and networking track trains students to understand the interaction of software and hardware in computer systems and networks. Programs include the Distributed Systems and Storage Laboratory, where students look at the design, development, and evaluation of next-generation storage and file systems, and the Systems, Networking, and Renaissance Grokking (SyNerGy) Lab in which students conduct basic and applied research in parallel and distributed computing to provide scientists and engineers with scalable and efficient computational tools.
At Virginia Tech's Bradley Department of Electrical & Computer Engineering faculty and students delve into all major areas of electrical and computer engineering. The main campus is in Blacksburg, and the department has additional research and teaching facilities in Arlington, Falls Church, and Hampton.
The Southern Virginia Higher Education Center IT Academy (ITA) offers short-term training to prepare individuals with the skills and certifications required for employment in the information technology industry. ITA learning spaces include a data center lab housing five rows with 200+ servers, routers, and switches; a hardware repair center with a full complement of needed IT tools and equipment; and a trainee classroom computer lab.
The Northern Virginia Technology Council's Data Center and Cloud Infrastructure Committee promotes the interests of the region's growing data center, cloud, and critical infrastructure community in an effort to contribute to the long-term growth and prosperity of the industry. Efforts include:
Providing educational and training programming for its members and forums for thought leadership and the sharing of best practices.
Leading efforts to identify the needs of the future workforce and advocate for industry-specific education programming.
Standing up, in conjunction with Northern Virginia Community College, a new two-year program called Engineering Technology: Datacenter Operations Technician, beginning in the fall 2018 to provide student training in a cross-section of data center operations
Many of Virginia's 23 community colleges offer programs of study in network administration, including:
Tidewater Community College - Career Studies Certificate in network administration
Northern Virginia Community College - Network Engineering (Specialist) Career Studies certificate
Piedmont Virginia Community College - Computer and Network Support Technologies Career Studies certificate 
Virginia Highlands Community College – Associate's degree in information technology, specialization in networking
Additional credentials and training programs may be covered under the New Economy Workforce Industry Credential Grants Program, which reduces the student cost of specific Workforce Credential training programs by two-thirds.
The demand for cloud services continues to grow globally as cloud services are transforming entire industries. We will continue to invest in growing our capacity to meet the expanding demand of our customers in close collaboration with the Commonwealth of Virginia and the County of Mecklenburg.

Christian Belady General Manager, Microsoft Corp.
Business Climate
Virginia is consistently ranked as a top location for business, and boasts a stable pro-business climate. Virginia's strategic location in the Mid-Atlantic, low costs of operations, and robust infrastructure are among the reasons the Commonwealth is one of the world's leading data center locations.
Read More
Virginia offers a welcoming business climate for data center operators and is recognized as a top state for business, coming in at No. 1 by CNBC and No. 4 by Forbes.com in their annual best states for business rankings.
In 2019 electricity rates are below the U.S. average at 6.24 cents per kilowatt hour vs. 7.01 cents nationally with lower rates available depending on provider.
The corporate income tax rate of 6%, not increased since 1972, demonstrates the Commonwealth's stability for business.
Local business property tax rates on computer and related equipment for data centers have been reduced by a number of localities.
Virginia also offers an exemption from retail sales and use tax for qualifying computer equipment purchased by data centers that meet statutory investment and employment requirements. Virginia was the first state to allow the tenants of colocation data centers to receive the benefit of the sales tax exemption.
Case Studies
Facebook Friends the Commonwealth of Virginia
Facebook needed to invest in a new data center to increase capacity while also keeping its energy footprint low and set out to find the location of its eighth U.S. data center.
Read Case Study