Assets
The Commonwealth serves as a location of choice for both traditional automotive suppliers and those of the future as the industry advances to more connected and autonomous technologies. Virginia's existing sector base is strong, with global companies like Continental, Dynax, IAC, Liebherr, Somic America, Toray Plastics, Volvo Trucks, Volkswagen, and Yokohama Tire represented on Virginia's automotive roster.
Read More
Strategic Location for Suppliers
Virginia's location provides strategic access to existing OEM clusters in the Midwest and South. The Port of Virginia, the 3rd-largest port on the East Coast, is a gateway to international markets for importing production materials and exporting finished products. The Port moved over 24,400 vehicle units in 2018. During that same year, automotive parts ranked as one of the Port's five largest import commodities and saw a 7% year-over-year increase.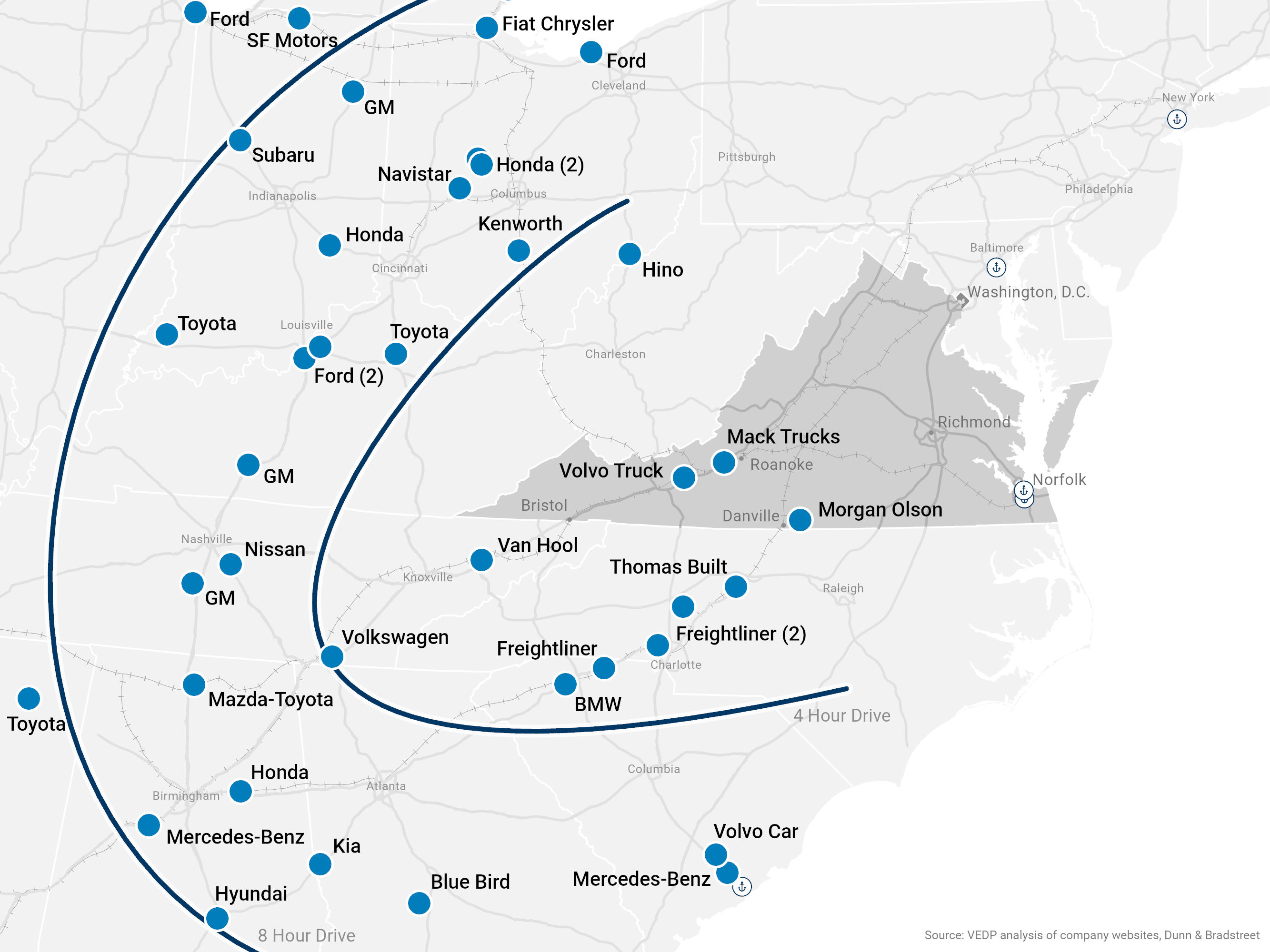 Automotive R&D in Virginia
Virginia's diverse automotive R&D facilities allow companies to develop, test, and commercialize next-generation technologies.
The Virginia Tech Transportation Institute
(VTTI) is the 2nd-largest university-level transportation institute in the U.S., with more than 500 employees and $45 million in annual sponsored program research expenditures. VTTI consists of 12 research centers and three global centers aimed at improving driver safety, advancing vehicle automation, and reducing environmental impacts.
VTTI facilities include:
The Virginia Smart Road, a unique, state-of-the-art, 2.7-mile full-scale, controlled-access test track and closed test-bed research facility. An expansion currently underway will more than double the current length and add new urban and rural roadway features.
Virginia International Raceway in Alton, Va., which allows the Institute to conduct projects in a multi-use testing environment that includes both closed-course and open traffic conditions. The raceway track can be configured to five different courses ranging from 1.1 miles to 4.2 miles and includes such topography as hairpin curves and blind passes.
The Global Center for Automotive Performance Simulation (GCAPS), a collaborative effort led by the VTTI in alliance with the Institute for Advanced Learning and Research (IALR), General Motors, and the Virginia Tobacco Regional Revitalization Commission. The Center encompasses: the National Tire Research Center (NTRC), the Southern Virginia Vehicle Motion Labs (SoVa Motion), and the Virtual Design and Integration Laboratory (VDIL). The Center houses the world's only force-and-moment tire testing machine capable of testing at speeds up to 200 mph under combined loading conditions.
The Virginia Automated Corridors, (VAC) providing an automation-friendly environment that government agencies, original equipment manufacturers, and suppliers can use to test and certify their systems, providing a system migration path from test-track to real-world operating environments. The VAC provides efficient solutions for automated-vehicle testing on real roads.
The Virginia Connected Corridors (VCC), encompassing both the Virginia Smart Road and the Northern Virginia Connected-Vehicle Test Bed to facilitate real-world development and deployment of connected-vehicle technology using more than 60 roadside equipment units.
The Center for Injury Biomechanics Crash Sled Lab, used primarily in the study of transportation-related trauma.
Additional R&D Resources in Virginia:
The University of Virginia's Center for Applied Biomechanics, the largest university-based injury biomechanics laboratory in the world specializes in impact biomechanics for injury prevention. One primary research focus of the center is automotive safety, including restraint studies and rollover research.
The Insurance Institute for Highway Safety's Vehicle Research Center in Ruckersville, a 22,000-square-foot crash hall with three runways to accommodate front and side tests replicating crashes into another vehicle or fixed objects. The Center conducts 50-70 crash tests per year and also uses the runways to evaluate new technologies such as adaptive headlights and rearview camera systems.
The ChemQuest Technical Institute, a coating and finishing technology center housing 11,000 square feet of environmentally controlled space, and a suite of state-of-the-art advanced manufacturing coating and finishing equipment. ChemQuest's mission is to become an industry-recognized national standard and world-class facility for workforce training, education, and research for a wide variety of industrial coating processes and technologies.
The Commonwealth Center for Advanced Manufacturing (CCAM), an applied research center that provides production-ready advanced manufacturing solutions to member companies across the globe. Members guide the research, leveraging talent and resources within CCAM and at Virginia universities through a collaborative model that enables them to pool R&D efforts to increase efficiencies. Strategic research areas include adaptive automation systems, surface engineering, additive manufacturing, and machining science and technology. Partnering with John Tyler Community College, CCAM is creating diverse pathways for students, veterans, displaced workers, and others to enter high-demand, skilled careers in the manufacturing industries.
Workforce
Virginia's 179 automotive companies employ over 21,500 people in Virginia, and its top-ranked educational institutions offer world-class engineering programs that are training the workforce of the future to provide a pipeline of skilled workers to the automotive industry.
Read More
Virginia Tech Transportation Institute, Blacksburg
Existing Workforce for Automotive Operations
| | | |
| --- | --- | --- |
| Selected Occupation | Virginia Employment | Virginia Median Salary |
| First-Line Supervisors of Production and Operating Workers | 12,450 | 61,600 |
| Electrical, Electronic, and Electromechanical Assemblers, Except Coil Winders, Tapers, and Finishers | 4,980 | 34,430 |
| Assemblers and Fabricators, All Other, Including Team Assemblers | 19,650 | 29,560 |
| Computer-Controlled Machine Tool Operators, Metal and Plastic | 1,590 | 39,910 |
| Cutting, Punching, and Press Machine Setters, Operators, and Tenders, Metal and Plastic | 2,260 | 34,250 |
| Machinists | 7,941* | 49,320 |
| Multiple Machine Tool Setters, Operators, and Tenders, Metal and Plastic | 1,560 | 31,610 |
| Tool and Die Makers | 570 | 55,750 |
| Welding, Soldering, and Brazing Machine Setters, Operators, and Tenders | 803* | 40,060 |
| Inspectors, Testers, Sorters, Samplers, and Weighers | 9,930 | 38,190 |
| Laborers and Freight, Stock, and Material Movers, Hand | 55,950 | 26,540 |
| Industrial Machinery Mechanics | 9,350 | 50,940 |
Source: BLS, OES, 2018
*Denotes Emsi value because 2018 value was suppressed
Virginia's colleges and universities continue to build a pipeline of skilled labor for the manufacturing industry of today and of the future. Virginia's workforce ranked No.2 in the U.S. for manufacturing value added according to the Information Technology and Innovation Foundation
Over 20,500 students are enrolled in engineering programs.
Partnerships with industry experts, such as the Volkswagen Partners in Education Initiative, were created to form a comprehensive education partnership with schools and technical institutions throughout the Commonwealth of Virginia and the greater Washington, D.C. area. Partners include Fairfax County Public Schools, Northern Virginia Community College, Excel Automotive Institute, George Mason University, the University of Virginia, and Virginia Tech.
Community colleges in Virginia are able to provide programs relevant to industries in their regions. A leading example is the Mechatronics Systems Program at Virginia Western Community College, which incorporates training in mechanical and electrical systems, as well as information technology, into a single curriculum.
The Gene Haas Center for Integrated Machining is a progressive precision machining training model that answers industry-expressed needs for a highly skilled 21st-century workforce. The program aims to integrate a "real-world" Lean flow-cell manufacturing environment with such skills as tool management; advanced testing and measurement; electrical discharge machining; computer numerically controlled grinding, milling, and turning; and business processes.
There are over 640,000 students in Career and Technical Education (CTE) programs in Virginia public school grades 6–12.
Two of the Top 50 Best Undergraduate Engineering Programs (Virginia Tech and UVA) according to U.S. News and World Report, 2019, are in Virginia.
Virginia is particularly business-oriented, with its pro-business laws, Port of Virginia access, logistics and infrastructure. We found a community of genuine and collaborative people, focused on supporting investment in a practical way and with great commitment. We found top-class universities and a great community college, with programs dedicated to the mechatronics sector that will grow excellent young engineers with the skills necessary to run Eldor's advanced automated lines.

Pasquale Forte President and CEO, ELDOR
Business Climate
Virginia is consistently ranked as a top location for business, and boasts a stable pro-business climate. Virginia is a right-to-work state with the 5th-lowest unionization rate in the U.S. at 5.5%.
Read More
Virginia offers a welcoming business climate for manufacturers and is recognized as a top state for business, coming in at No. 1 by CNBC and No. 4 by Forbes.com in their annual best states for business rankings.
2019 electricity rates are below the U.S. average at 6.24 cents per kilowatt hour vs. 7.01 cents nationally.
Unemployment insurance taxes are the 5th-lowest in the nation and 43% lower than the national average.
Average workers' compensation costs are among the nation's lowest.
Effective tax rates for labor-intensive manufacturing rank No. 2 according to the 2015 Location Matters Study by the Tax Foundation.
The corporate income tax rate of 6%, not increased since 1972, demonstrates the Commonwealth's stability for business.
Average manufacturing compensation in Virginia is 12.4% below the national average.
Eldor Corporation Fuels Virginia's Automotive Sector
Since its founding in 1972 in Italy, Eldor Corporation has grown to be a leading global supplier to the world's premier automotive manufacturers and was interested in expanding its manufacturing division into the United States market.
Read Case Study
Morgan Olson, LLC Steps into Southern Virginia
Less than 10 years ago, Morgan Olson's Michigan facility was manufacturing 100% of the company's step van orders. As the preferred walk-in step van body company with plants at full capacity, Morgan Olson needed to grow to meet customers' needs.
Read Case Study