Talent
Virginia's premier talent base makes for a world-class labor pool ready to meet business needs in all key employee profiles. Across industries, Virginia's workforce is one of the most productive and educated populations in the country -  38% of the population has a bachelor's degree or higher, making the Commonwealth the sixth most educated state in the country (and first in the South).
#2
highest concentration of technology workers of any state in the country (Cyberstates, 2019)
4th
largest veteran workforce in the country
#1
Workforce in U.S. (CNBC, America's Top States for Business 2019)
Higher Education
Virginia is known for its world-class post-secondary education system that provides a robust pipeline of new graduates from local and regional universities.
15 public comprehensive colleges and universities, eight of which are doctoral institutions
More than 30 private, accredited four-year institutions
23 public community colleges with 40 campuses around the state
And most of our talent stays local with 60% staying in the state after graduation, compared to the national average of 54%.
#2
top state for higher education according to SmartAsset 2020
500k+
students enrolled in more than 70 four-year colleges and universities each year
3
of the country's top 30 public universities ranked by US News & World Report: University of Virginia, College of William and Mary, and Virginia Tech
K-12
Virginia's extraordinary talent pipeline begins at an early age. As the 4th best state school system according to WalletHub in 2019, the Commonwealth has 103 public high schools ranked among U.S. News & World Report "Best High Schools in 2018" including 11 gold medal high schools.
Virginia has shown its commitment to further workforce development at the K-12 level with dual enrollment options for high schools juniors and seniors at all Virginia community colleges since 1988. More recently, the Commonwealth passed legislation calling for computer science, computational thinking, and computer coding to be integrated into K-12 curricula.
Veterans
Virginia is proud to be home to 411,000 working veterans, the fourth-largest veteran workforce in the country. Each year, thousands of skilled workers exit the U.S. military in Virginia, providing a steady pipeline of dedicated, specialized talent to a variety of industries.
The Virginia Values Veterans (V3) Program helps employers develop and implement long-term strategies and nationally recognized best practices in recruiting, hiring, and retaining veterans.
Livability
Virginia's diversity and natural beauty are simply unparalleled. With access to a variety of outdoor amenities both in cities and picturesque small towns as well as thriving urban centers alive with arts and culture, Virginians throughout the Commonwealth have a vibrant quality of life.
#1
State for Quality of Life in the U.S. (Forbes, 2019)
#1
State for Outdoor Activities in the Southeast/Mid-Atlantic (Blue Ridge Outdoors, 2019)
7th
Top State to Live in (WalletHub, 2019)
Virginia's natural beauty encompasses the majesty of the Blue Ridge and Appalachian mountains, an abundance of lakes and rivers, and a thriving beachfront. Outdoor enthusiasts have easy access to every possible activity from mountain biking to bird watching to deep sea fishing and the Commonwealth's four-season climate means there is always a new reason to get outside.
The state's rich history and culture dates back to 1607. From hallowed battlefields to one of the nation's foremost Shakespeare festivals, Virginians enjoy a wide variety of cultural activities throughout both the rural regions and our urban centers.
Virginia residents also enjoy access to the nation's fourth-best school system (according to WalletHub). The state also has a premier university system, including Thomas Jefferson's University of Virginia in Charlottesville, Virginia Tech in Blacksburg, the College of William and Mary in Williamsburg and Fairfax's George Mason University, ranked one of the most diverse universities in the country.
One of the more affordable states for health care in the U.S., Virginians have better access to health care than in most states and outcomes are amongst the top 20 states (WalletHub).
There are many reasons to love living here, Virginia is for Lovers after all.
Location and Infrastructure
Strategically located on the U.S. East Coast and adjacent to Washington, D.C., Virginia's integrated transportation system of highways, railroads, airports, and seaports provide logistical advantages for companies in every industry.
As the nation's third-largest state-maintained transportation network, Virginia's highway system includes more than 70,000 miles of primary and secondary roads and six major north-south and east-west interstate routes. The roadways offer one-day access to more than 47% of the U.S. population.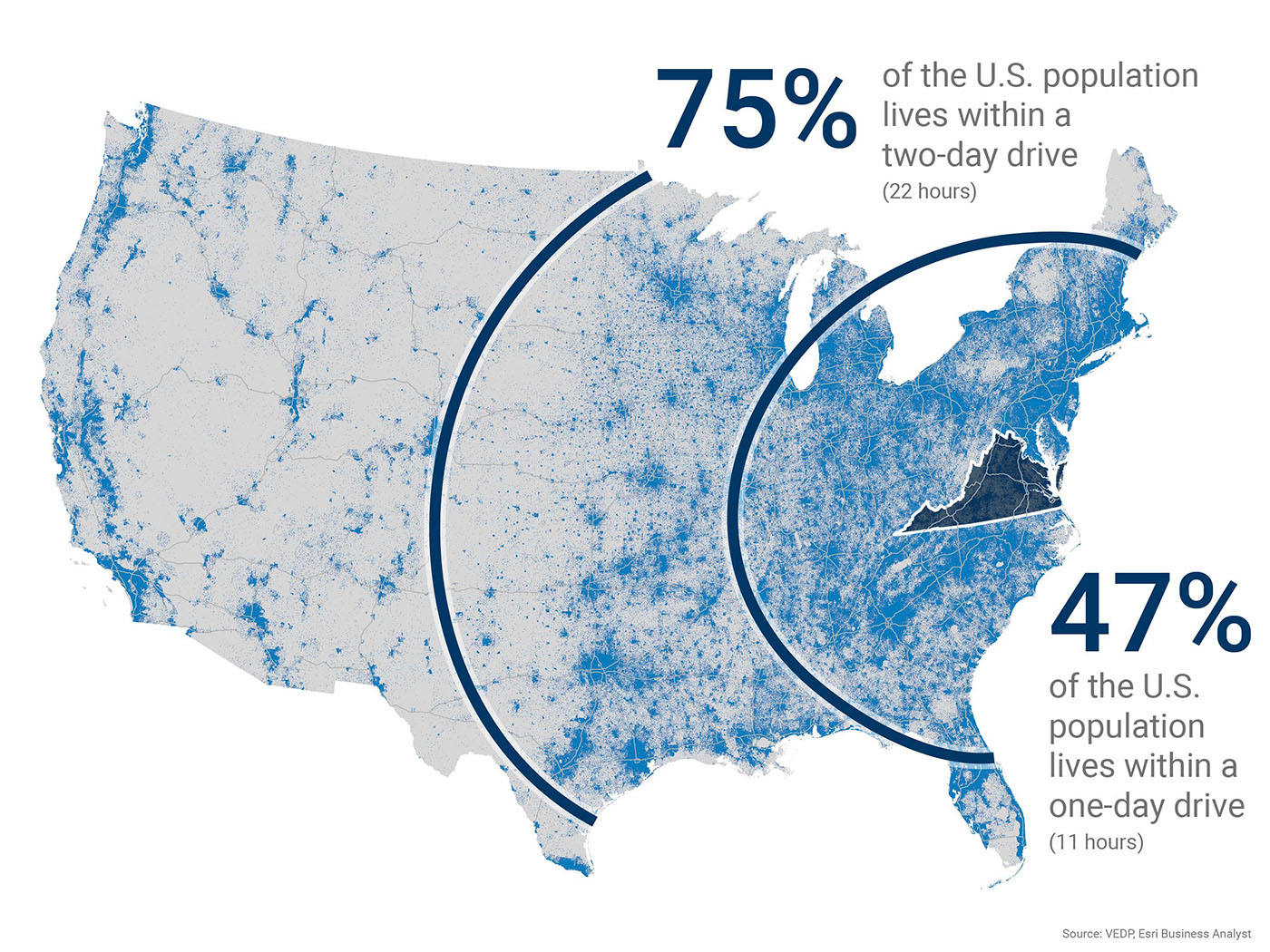 Two of the nation's largest Class I railroads operate in Virginia—CSX Corporation and Norfolk Southern Corporation, which both have an extensive infrastructure throughout the Commonwealth. Nine short-line railroads also provide freight rail service, and more than 3,500 miles of railway traverse the state.
The Port of Virginia is the third largest port on the East Coast by total TEUs. The Port boasts a 50-foot ice free channel, no overhead obstructions, on-deck rail service (two Class I railroads), easy access to ocean lanes, and is the only East Coast port with Congressional authorization to dredge to 55 feet.
16 commercial airports serve Virginia with non-stop flights to 100+ domestic and 50+ international destinations. Washington Dulles International Airport (IAD) handles over 300,000 tons of cargo annually and is serviced by more than 38 airlines. Further south, both FedEx, UPS and other carriers at Richmond International Airport (RIC) carry more than 100 million pounds of cargo each year.
Business Climate
The northernmost right-to-work state on the East Coast, Virginia is consistently ranked as one of the nation's top states to do business. Home to more than 800 internationally-owned companies, Virginia offers the right environment for business success.
#1
Top state for business (CNBC, 2019)
#2
Most Small Business Friendly State (Thumbtack, 2019)
#4
Best state for business (Forbes, 2019)
Virginia has maintained a AAA rating since 1938, longer than any other state. Since 1972, Virginia has had a stable 6% corporate income tax, lower than the national median of 6.5%. For mature, labor-intensive manufacturers, the effective state and local tax rate is 4.3%. The Commonwealth ranks 10th for corporate taxes in the Tax Foundation's 2019 State Business Tax Climate Index. 
The Commonwealth ranks No.3 for best regulatory environment on the Forbes 2019 Best States for business rankings and No. 3 for business-friendly environment in CNBC's 2019 rankings.
Virginia has the 8th-most Fortune 1000 companies of any state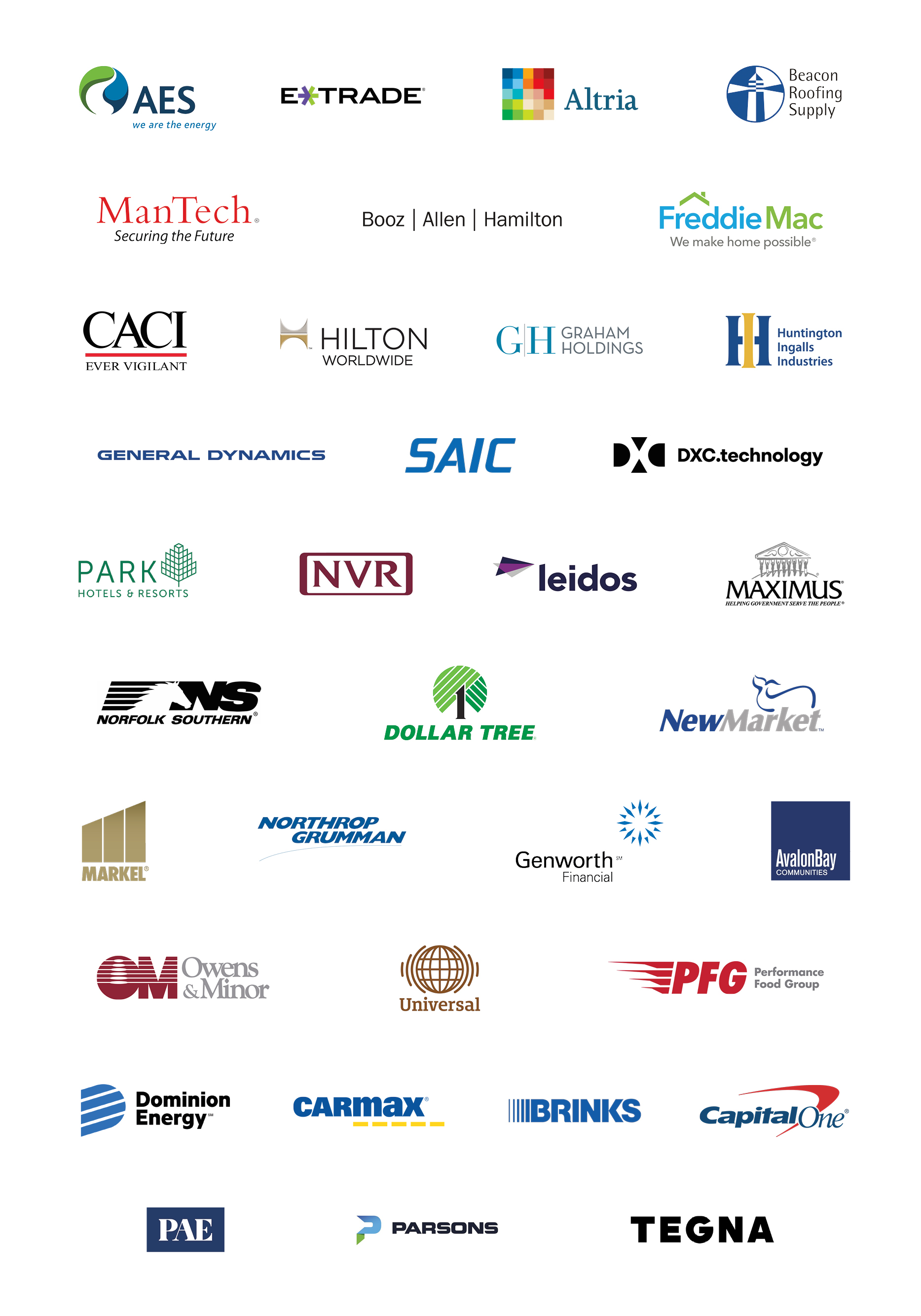 Virginia's economic development organization is unique among most states because VEDP is an independent, nonpartisan government organization. Our leadership has never changed as a result of a gubernatorial election. Governed by a board comprised primarily of business leaders, VEDP serves as a committed, capable, professional, responsive and reliable partner to business.
Ad va ntage
We serve the U.S. market and export to over 80 countries from our location in Virginia Beach. The Port of Virginia was one of the reasons we chose this location more than 45 years ago, and as we have grown, the port has become integral to our success.
Bjoern Fischer
President
STIHL Incorporated
Bjoern Fischer
President
STIHL Incorporated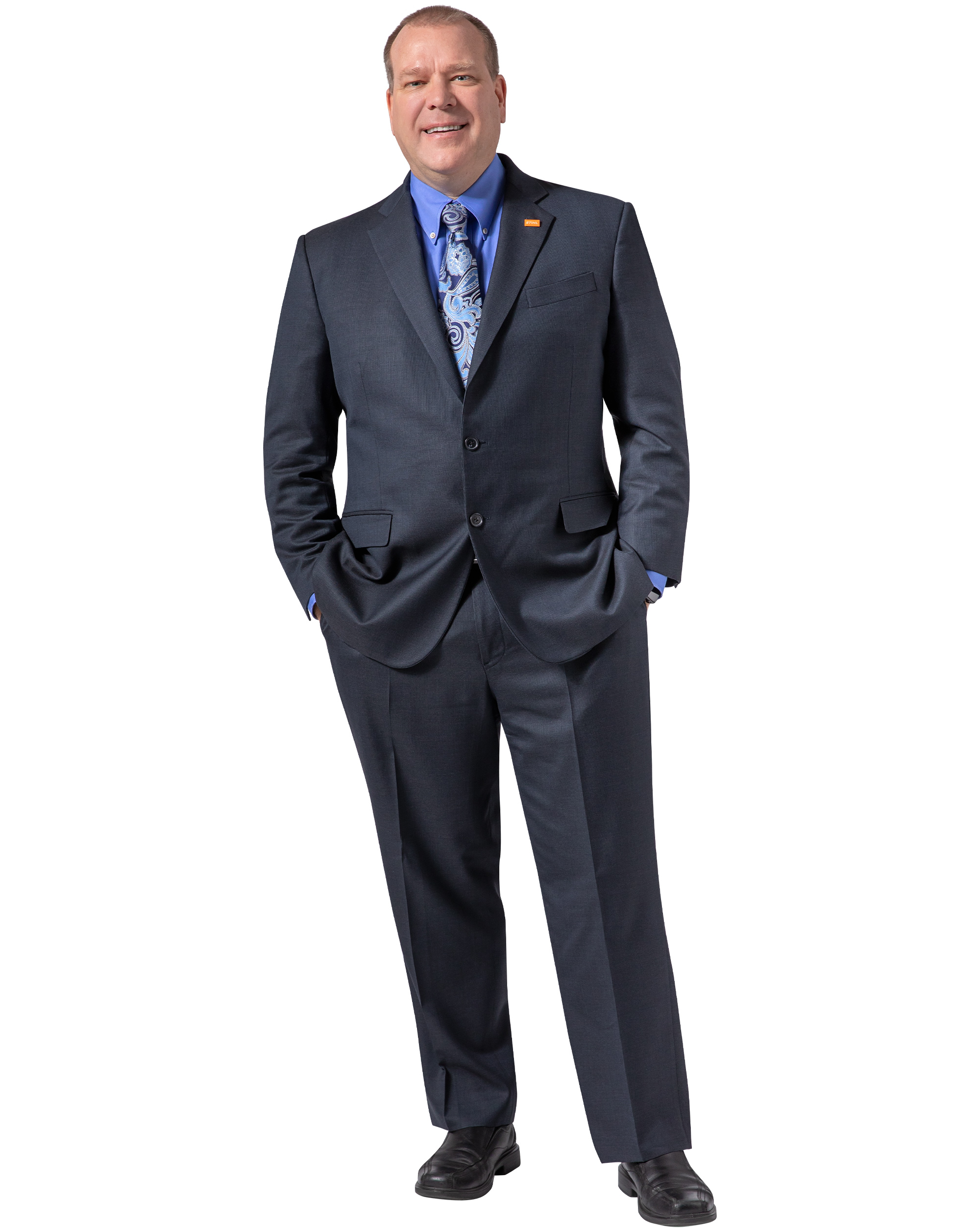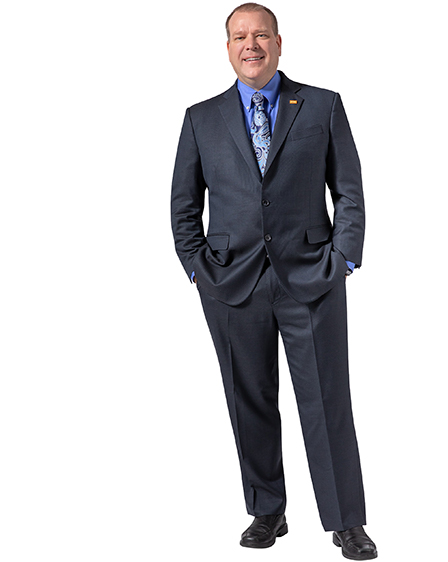 Va lue
In Virginia, there is as much interest in supporting the companies that are here as there is in trying to attract new companies to come.
Mike Petters
President and CEO
Huntington Ingalls Industries
Mike Petters
President and CEO
Huntington Ingalls Industries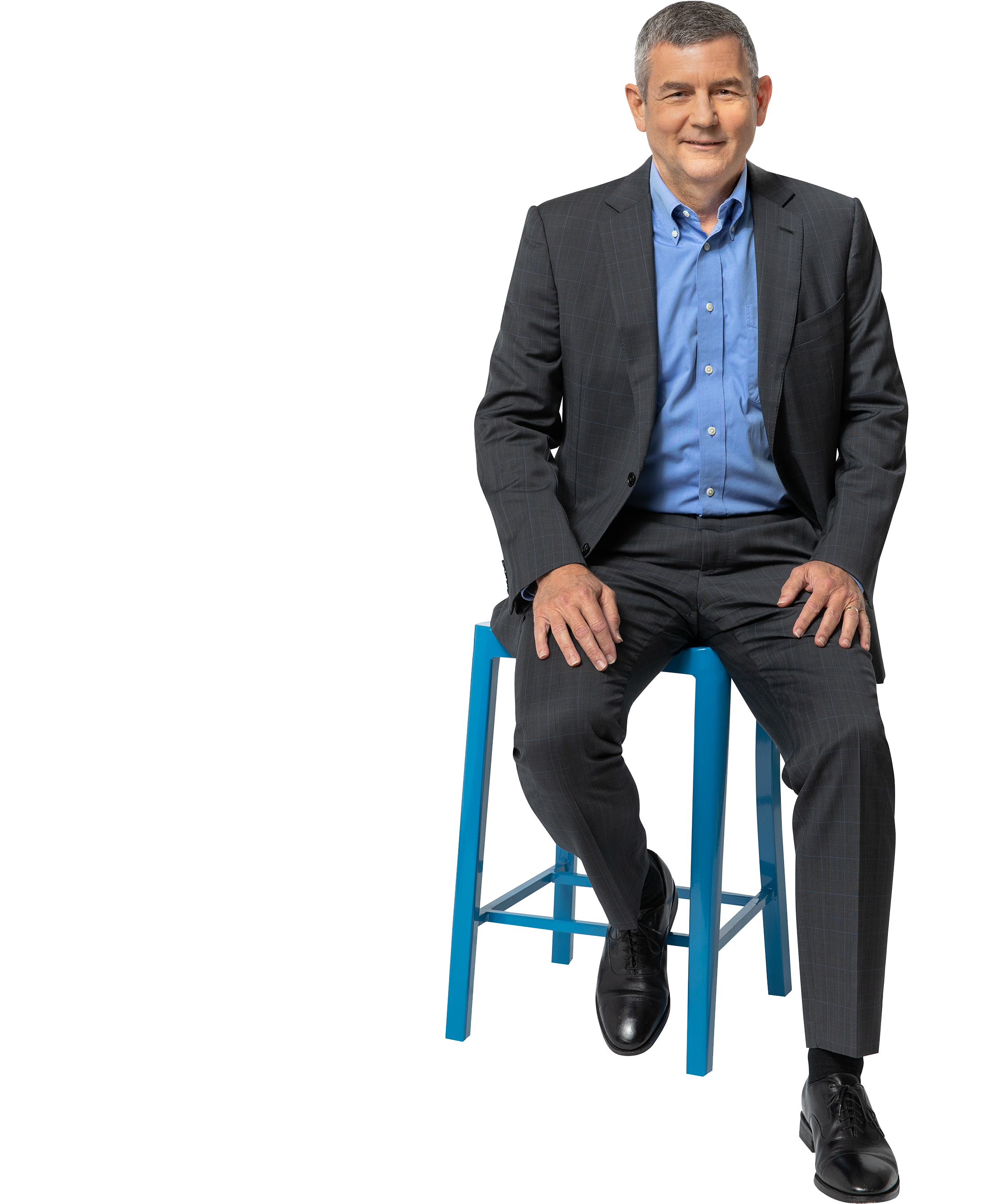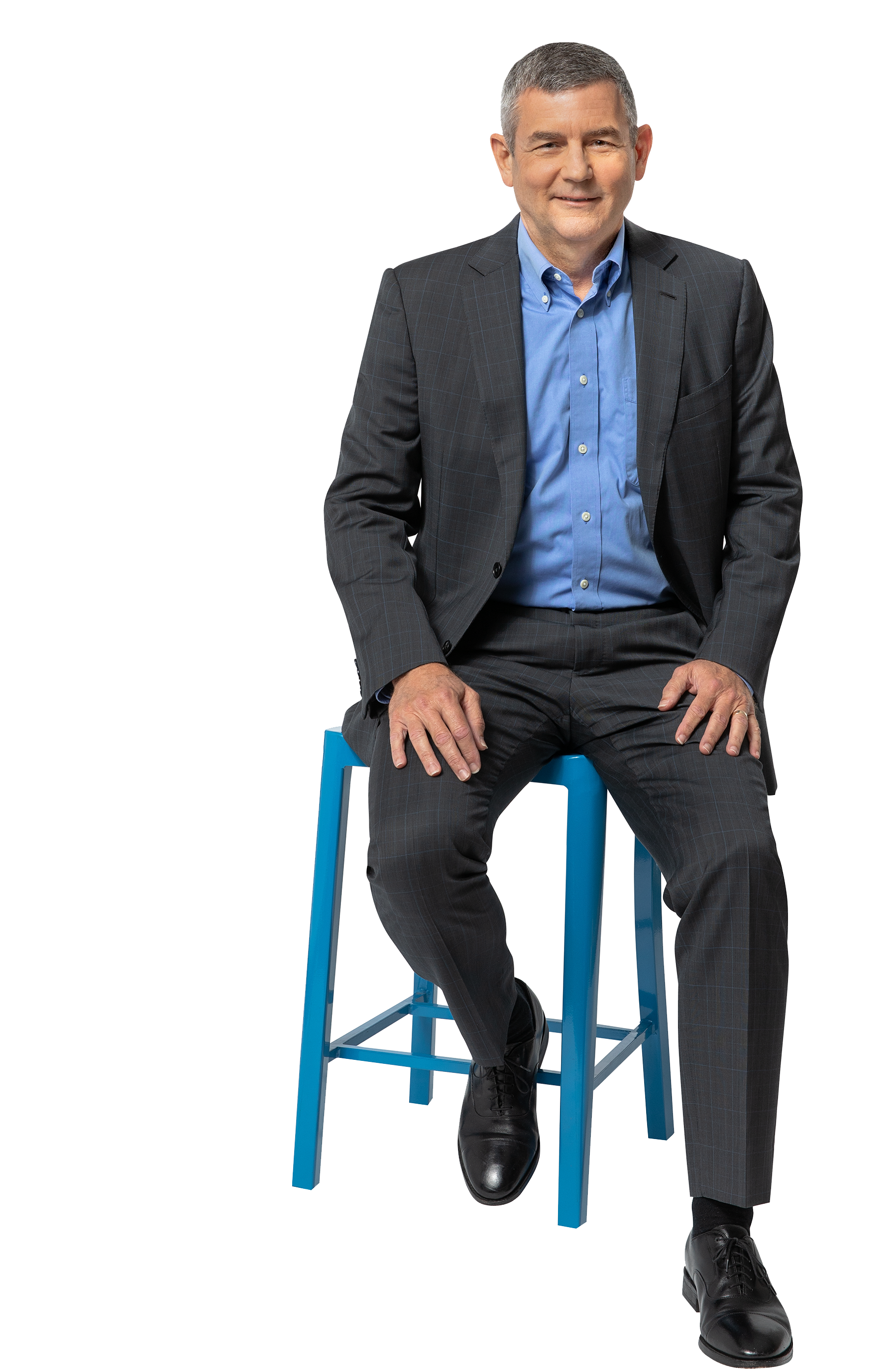 Ad va ntage
Virginia has made for a great manufacturing location for the Hershey Company because it gives us access to the talent and labor supply that we need to operate a highly efficient, automated manufacturing facility.
Jason Reiman
Chief Supply Chain Officer
The Hershey Company
Jason Reiman
Chief Supply Chain Officer
The Hershey Company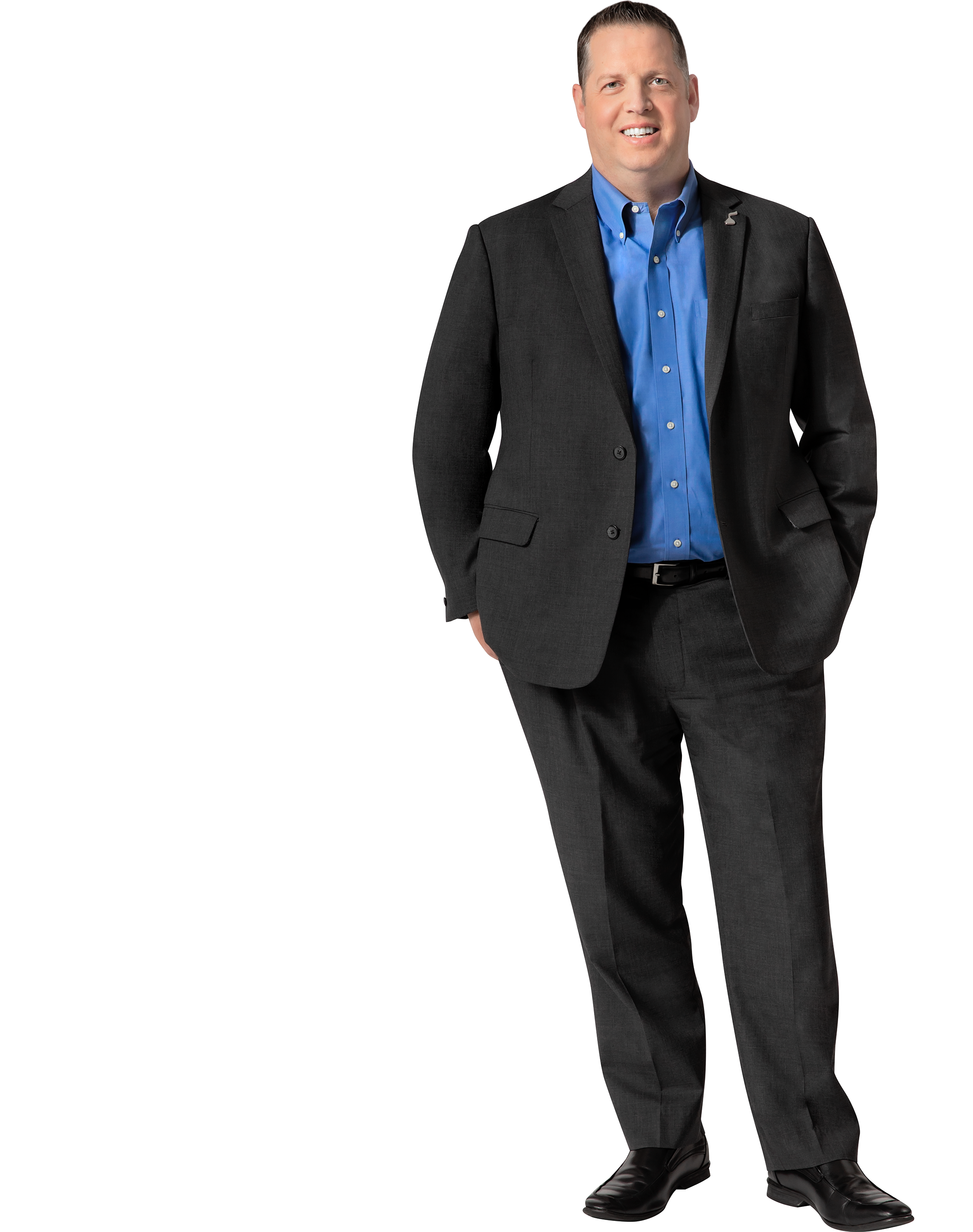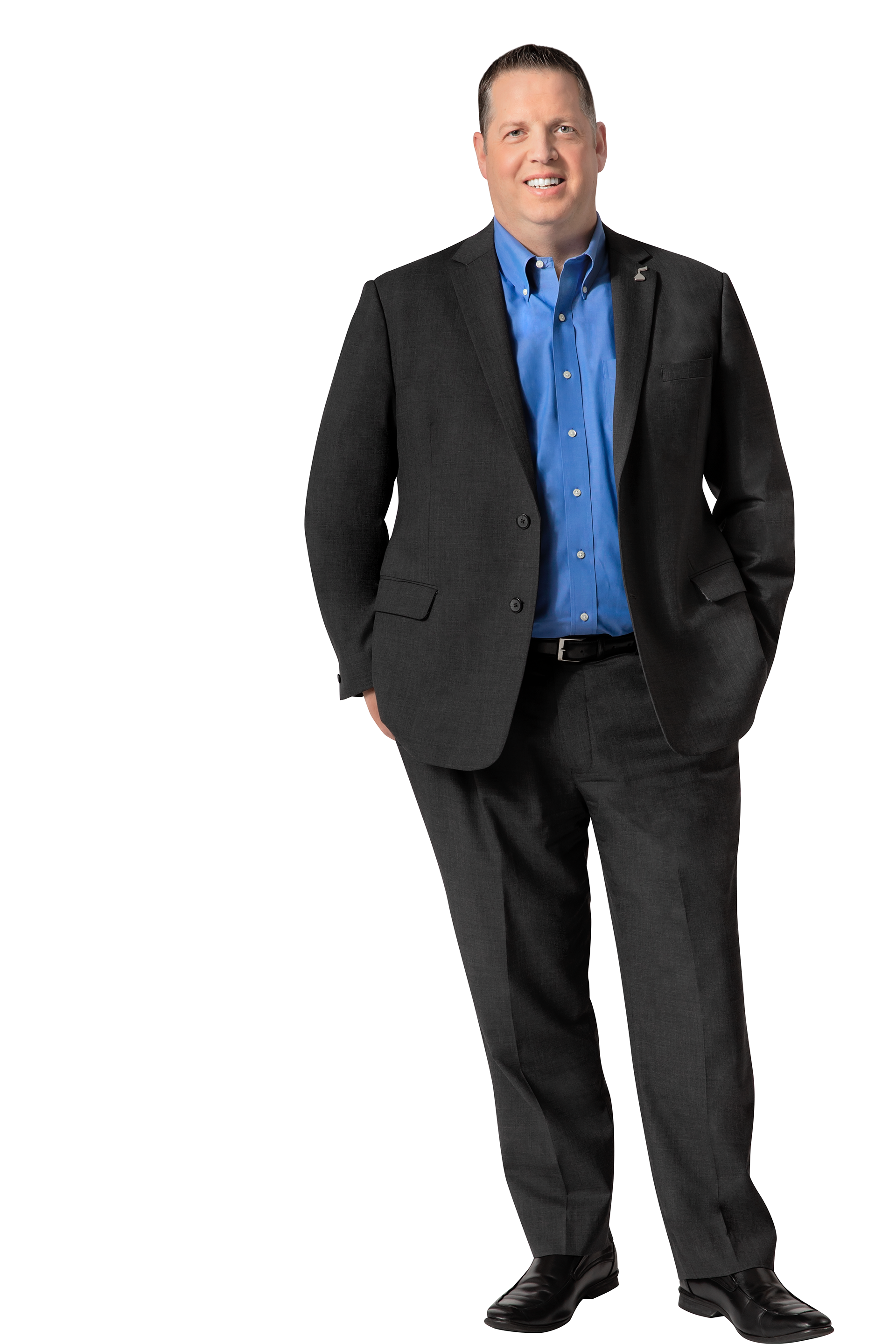 Inno va tion
We believe that diversity and inclusion leads to a more innovative environment. Our site in Virginia is represented with 55 different nationalities. This diversity of talent promotes a culture of innovation and is a key contributor to our success and we love that.
Sanjay Mehrotra
President and CEO
Micron Technology
Sanjay Mehrotra
President and CEO
Micron Technology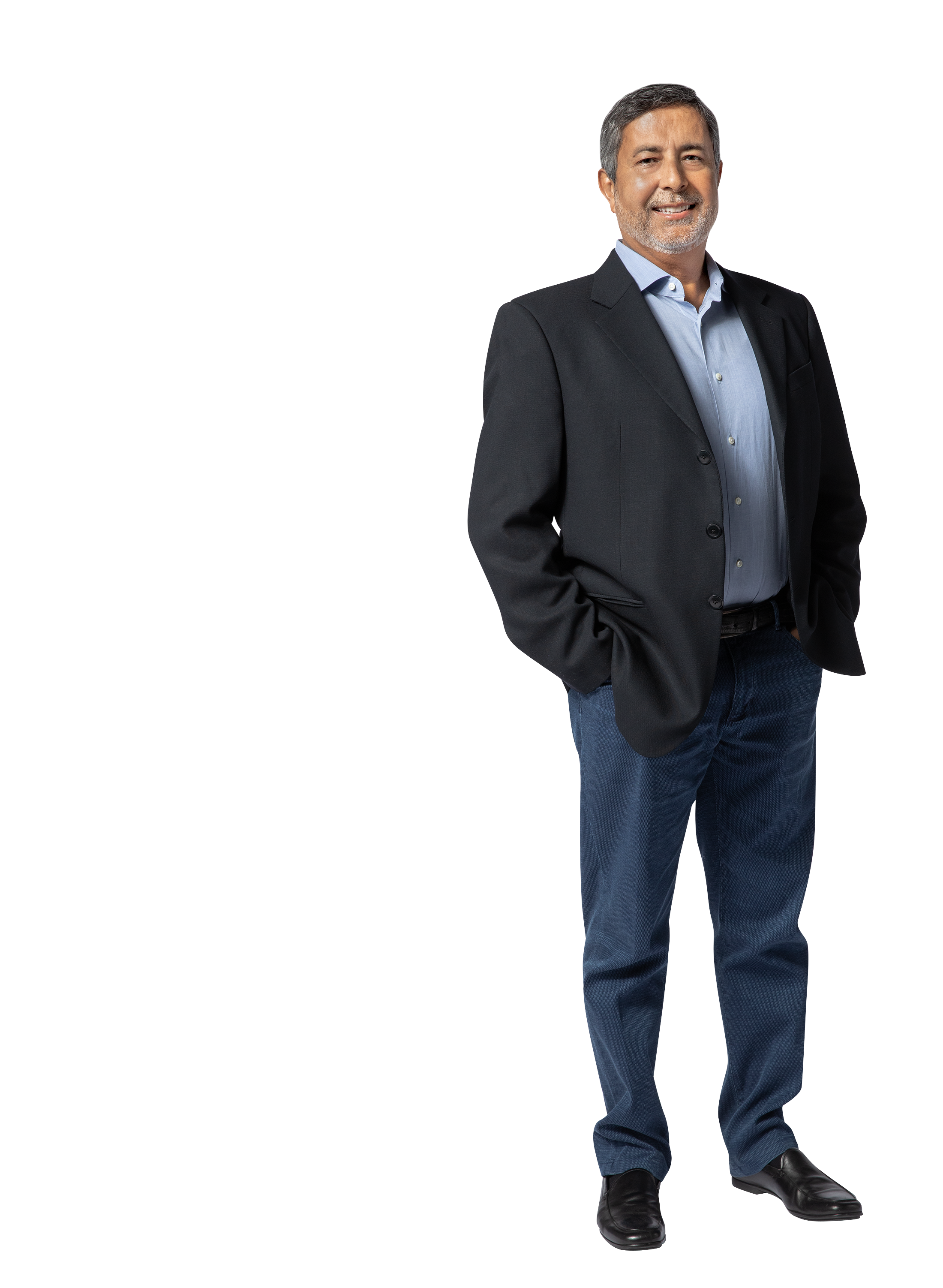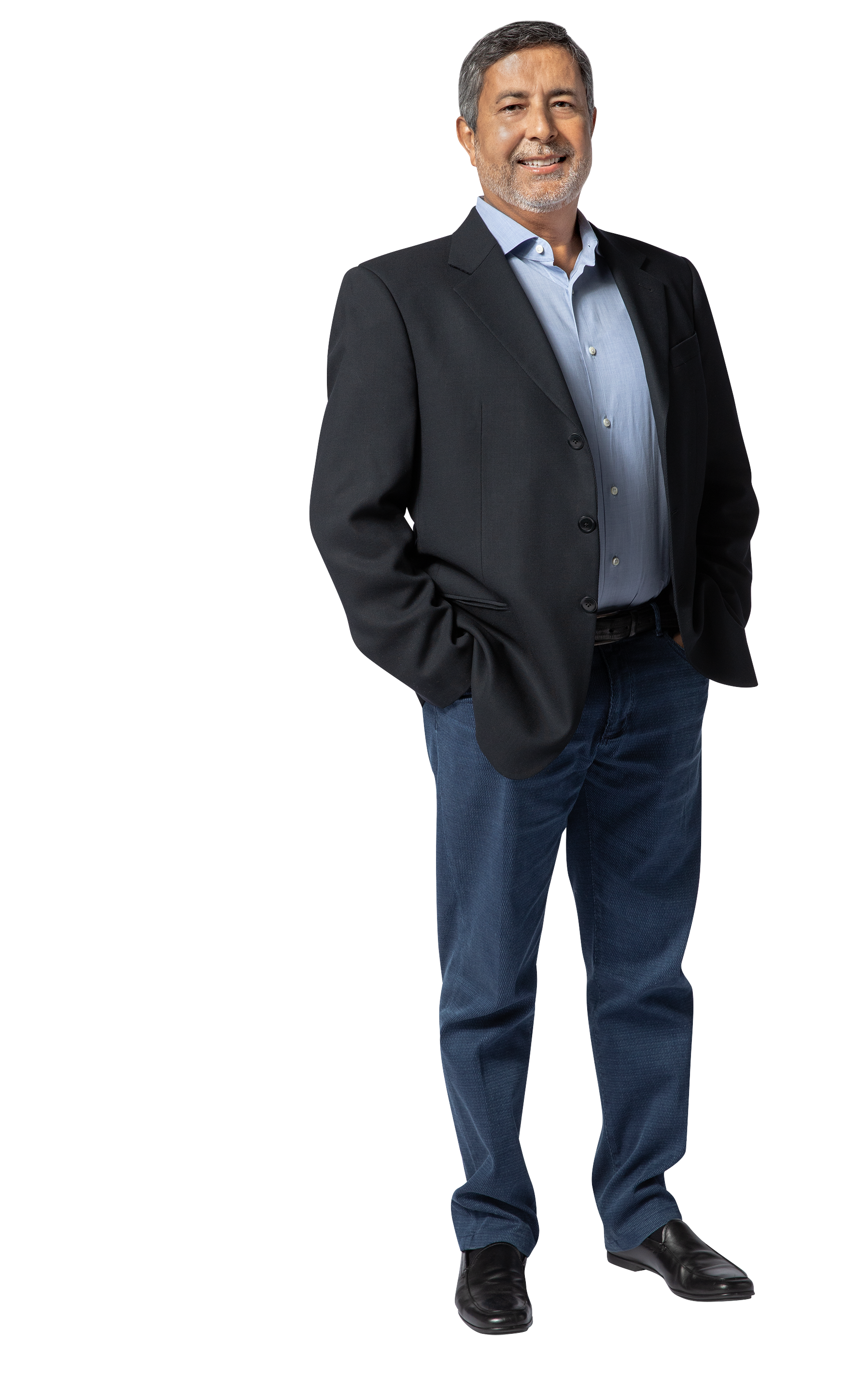 Ad va ntage
When we thought about relocating our headquarters, it was really about finding the right location that gave us access to the right talent and the right kind of infrastructure we needed to succeed for the next 100 years and that turned out to be Virginia. What we found in Northern Virginia is the talent we need to win, and it's exceeded our expectations.
Steve Presley
Chairman and CEO 
Nestlé USA
Steve Presley
Chairman and CEO 
Nestlé USA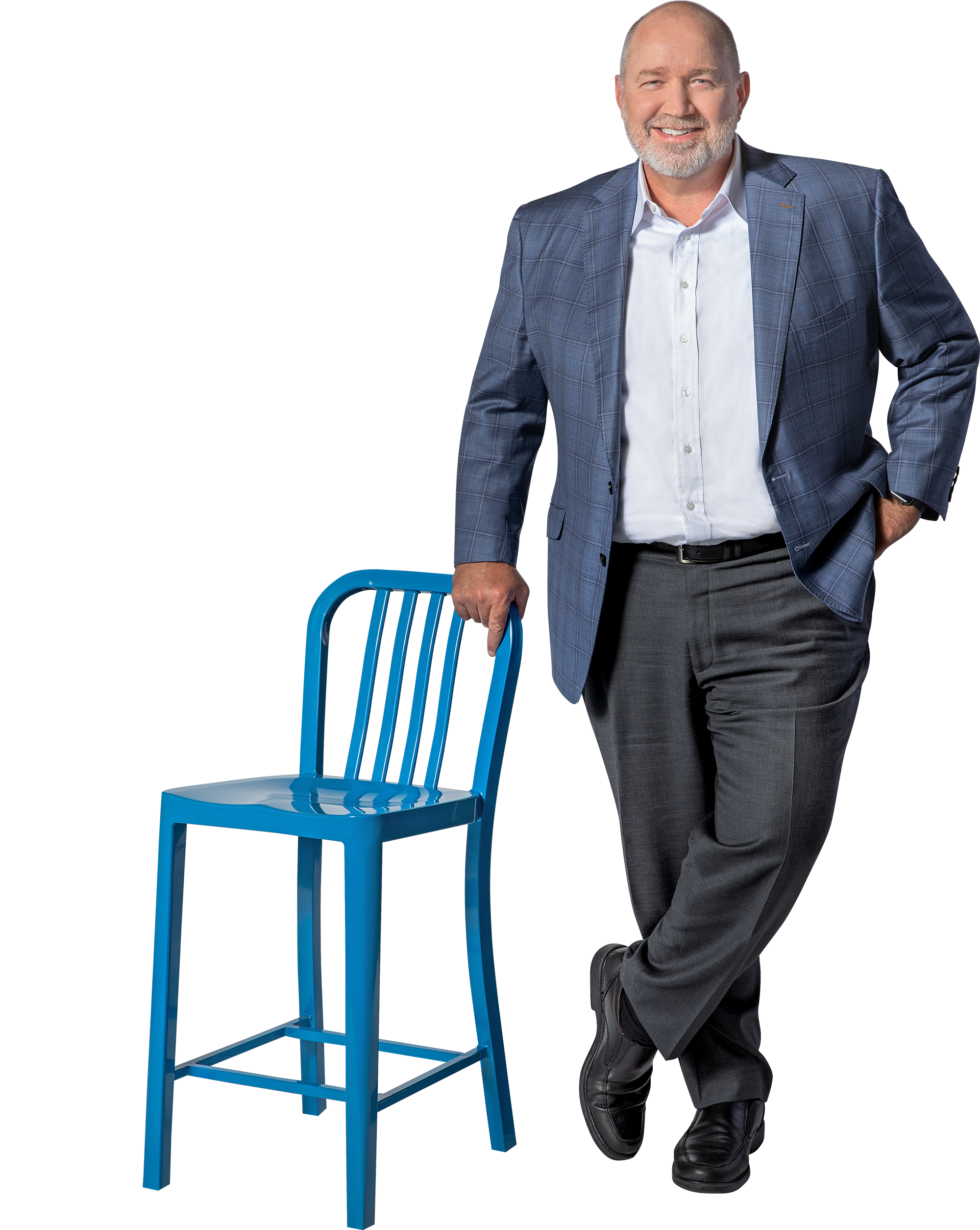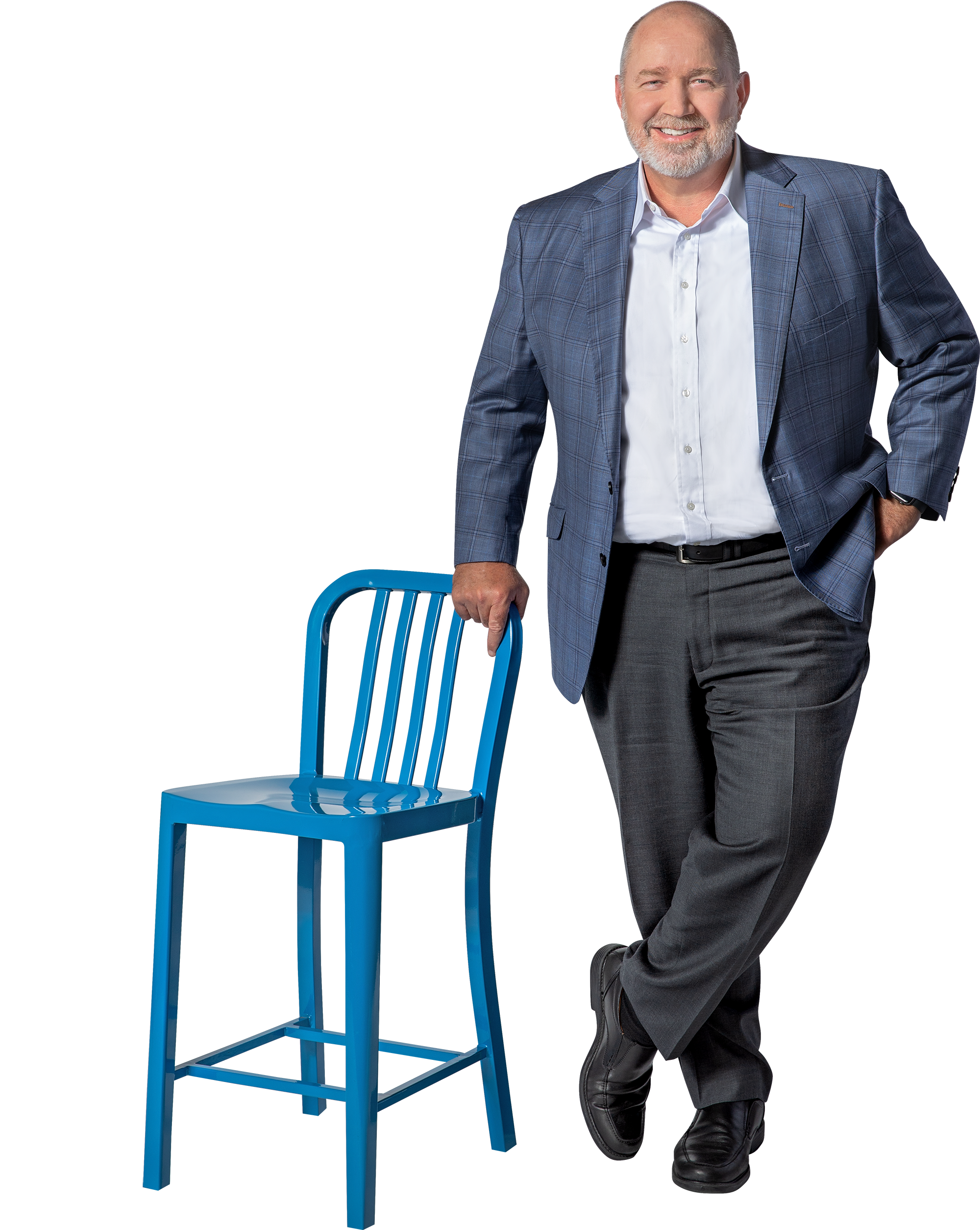 Culti va te
Virginia has been a great home for us for years from a workforce perspective. Solid universities across the state serve as feeding grounds for our trainee programs and for the different roles that we bring inside the headquarters environment. It's been home to us, and a great place to grow and thrive as a business.
Kevin Murphy
Chief Executive Officer
Ferguson Enterprises
Kevin Murphy
Chief Executive Officer
Ferguson Enterprises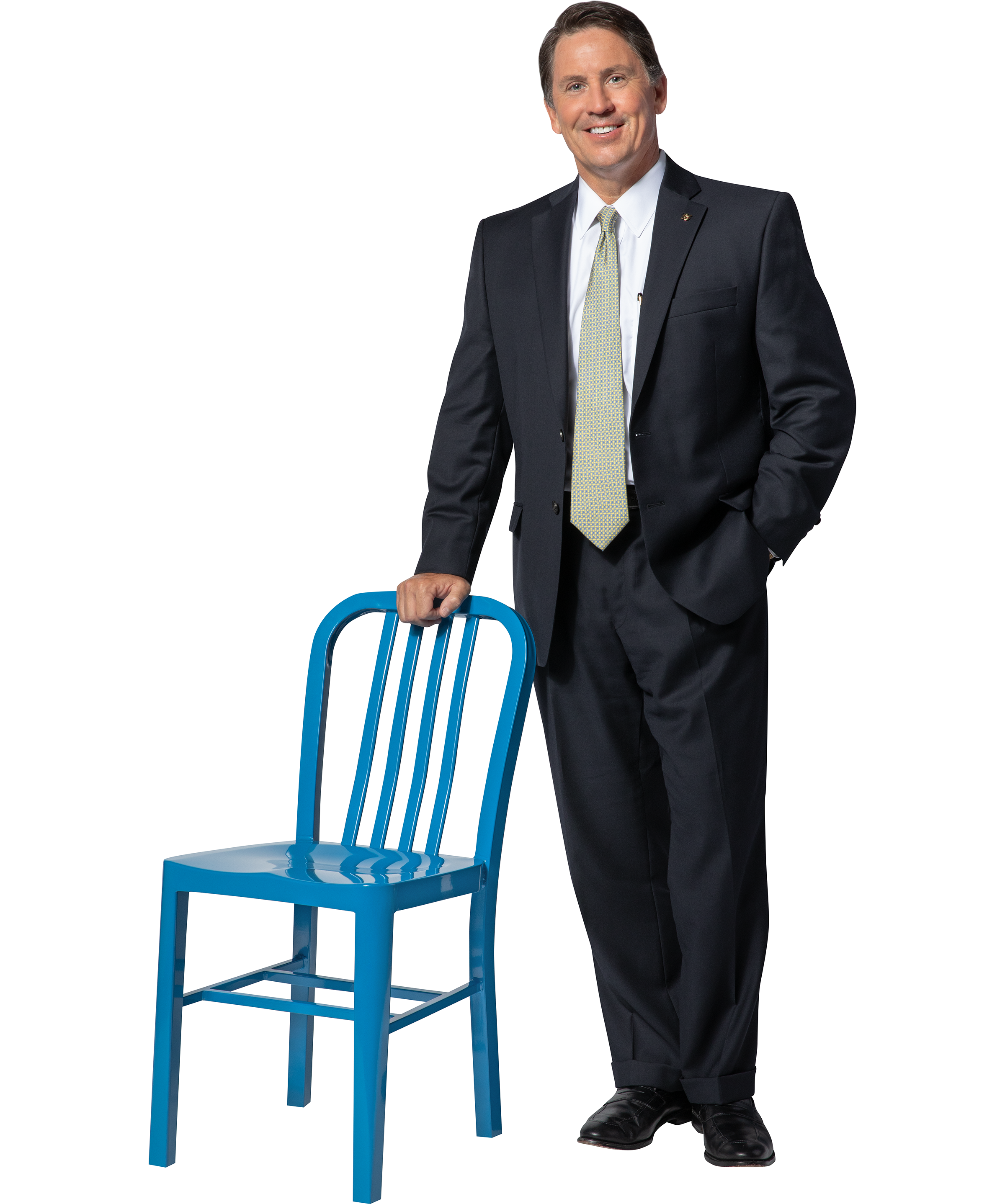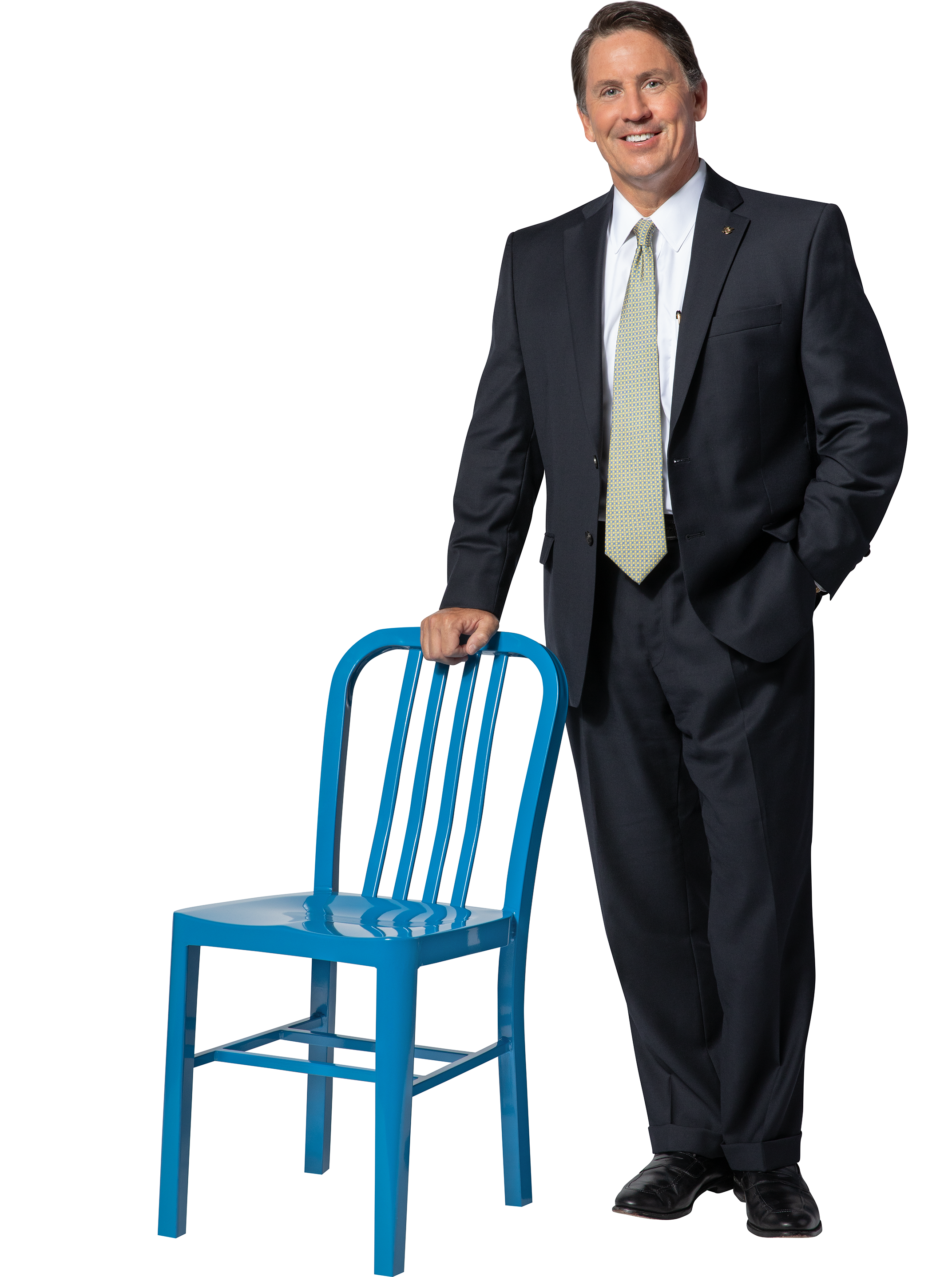 Contact
Contact VEDP today to learn more about how Virginia can be a great partner for your business.