Assets
The Commonwealth is home to many internationally recognized research and development facilities. These federally funded and private facilities, along with Virginia's prestigious research universities, give companies direct access to cutting-edge technology and some of the world's leading researchers.
Read More
Virginia's location between the major life science clusters in Research Triangle Park and the D.C. Metro area provides access to one of the largest life sciences hubs on the East Coast. The Commonwealth's proximity to key federal agencies, including NIH, DARPA, FDA, and NSF, is a strategic advantage for companies. Combined with existing industry concentrations around research institutions and population centers and its leading position in IT, Virginia paves the way for the future of life sciences in health IT and personalized medicine.
Research Parks & Facilities
One of Virginia's major strengths lies in the opportunity for colocation and cooperative relationships with Virginia universities, federal labs, and other research entities, which include regional clusters in Northern Virginia, the Shenandoah Valley, Richmond, Central Virginia, Hampton Roads, and Southwestern Virginia.
Northern Virginia
The Inova Center for Personalized Health has partnered with the Commonwealth of Virginia, Virginia's leading research universities, and innovative health care companies to expand access to cutting-edge genomic screening and assessments. The Inova Translational Medicine Institute (ITMI) is a not-for-profit research institute that applies genomic and clinical information from individuals to develop innovative methods for personalized health care.
The Inova Personalized Health Accelerator is a unique program that provides C-suite coaches, customized plans, early stage capital, connections to strategic partners and later stage capital, and connections to customers for health care technology and services entrepreneurs.
The Prince William Science Accelerator is a life sciences incubation facility that features nine fully built-out, commercially available wet labs.
Howard Hughes Medical Institute's Janelia Research Campus is a pioneering research center in Ashburn, where scientists pursue biology's most challenging problems in a uniquely innovative and collaborative atmosphere.
Shenandoah Valley
Blue Ridge Community College recently broke ground on a 40,000-square-foot biosciences facility to train students in biomanufacturing and bioprocessing.
James Madison University offers a four-year cross-disciplinary B.S. degree program for a major in biotechnology.
Richmond Region
VA Bio+Tech Park is a dynamic life sciences and emerging technologies community located in downtown Richmond. The 34-acre park is home to nearly 70 companies, research institutes, state/federal laboratories, and is adjacent to the medical campus of Virginia Commonwealth University (VCU). Major employers in the park include the Altria Center for Research and Technology, True Health Diagnostics, and the United Network for Organ Sharing (UNOS). The Bio+Tech Park is the hub for emerging life sciences companies with support from the bench to growth.
The Medicines for All Institute at VCU, funded by the Bill & Melinda Gates Foundation and located in the Bio+Tech Park, is working to improve access to affordable, high-quality medicines by researching methods to reduce the cost of active pharmaceutical ingredients (APIs).
Central Virginia
UVA School of Data Science, funded by a $120 million grant, will position the University as a global leader in data science, and help meet Virginia's and the nation's surging demand for highly skilled, information-economy workers.
UVA Research Park is a 562-acre, 3.7 million-square-foot, fully master-planned, mixed-use development which includes space for laboratory, medical, and pharmaceutical uses.
Hampton Roads
VABeachBio Research Park has an overall master plan that supports up to 1.5 million square feet of space for office, research, and development and provides access to an existing life science hub that includes LifeNet Health, a leader in the fields of tissue and organ research and regenerative medicine.
Innovation Research Park @ ODU houses life science, technology, medical, clinical, and office users in two 100,000-square-foot Class A wet/dry lab and office buildings.
Tech Center Research Park in Newport News, which will total 50 acres of private and collaborative workspaces, conference rooms, networking event space and more, offers space to tenants ranging from small start-ups to Fortune 500 companies.
Southwestern Virginia
The Fralin Biomedical Research Institute at VTC, based in Roanoke, provides state-of-the-art facilities for molecular medicine, imaging using lasers, high-power electron beams and magnetic resonance, high-capacity data handling, and human performance analysis. The institute is the hub for the worldwide hyperscanning network for interactive functional brain imaging. VTC leverages Virginia Tech's world-class strength in basic sciences, bioinformatics, and engineering with Carilion Clinic's highly experienced medical staff and rich history in medical education.
The Virginia Tech Corporate Research Center (VTCRC) is home to over 180 research, technology, and support companies in a 230-acre park.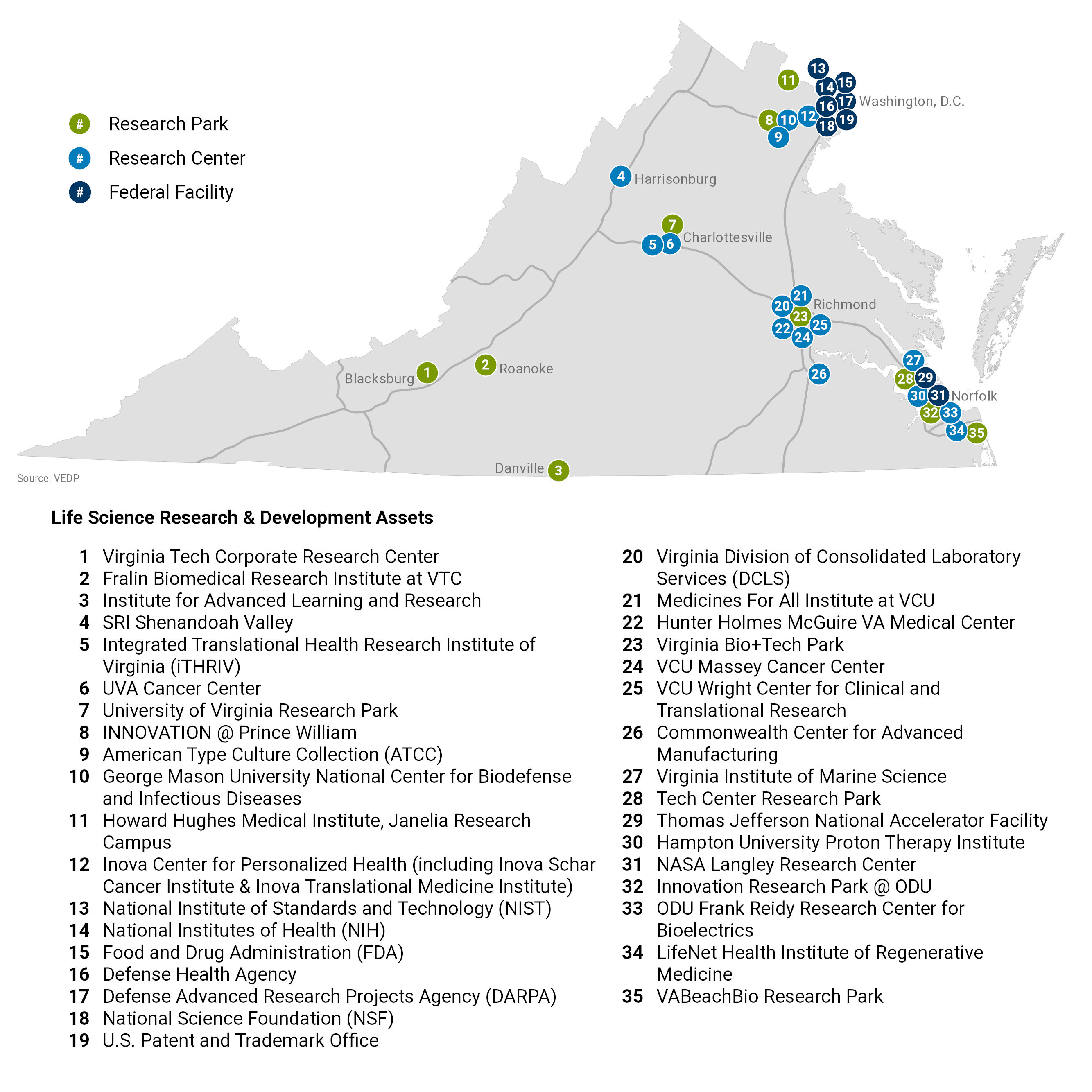 LifeNet Health, Virginia Beach
Workforce
Virginia's life sciences industry employed more than 25,000 people in 2019. Research, testing, and medical laboratories account for 40% of the Commonwealth's life sciences employment, followed by bioscience-related distribution with 29%, drugs and pharmaceuticals production with 16%, medical devices and equipment production with 14%, and agricultural feedstock and chemicals production with 1%.
Read More
Institute for Advanced Learning and Research, Danville
Virginia's Existing Life Sciences Workforce
| | | | |
| --- | --- | --- | --- |
| Selected Occupation | Virginia Employment | Virginia Median Salary | US Median Salary |
| Biochemists and Biophysicists  | 450 | 64,262* |                    93,280 |
| Microbiologists | 380 | 92,420 |                    71,650 |
| Medical Scientists, Except Epidemiologists  | 1,800 | 89,220 |                    84,810 |
| Chemists | 1,390 | 95,590 |                    76,890 |
| Biological Technicians | 1,742 | 43,630 |                    44,500 |
| Chemical Technicians | 1,120 | 46,210 |                    48,160 |
| Clinical Laboratory Technologists and Technicians | 8,360 | 50,990 |                    52,330 |
| First-Line Supervisors of Production and Operating Workers | 12,450 | 61,600 |                    60,420 |
| Assemblers and Fabricators, All Other, Including Team Assemblers | 19,650 | 29,560 |                    31,540 |
| Computer-Controlled Machine Tool Operators, Metal and Plastic | 1,590 | 39,910 |                    40,070 |
| Chemical Equipment Operators and Tenders | 1,560 | 38,640 |                    48,770 |
| Separating, Filtering, Clarifying, Precipitating, and Still Machine Setters, Operators, and Tenders | 1,450 | 39,810 |                    40,810 |
| Mixing and Blending Machine Setters, Operators, and Tenders | 2,736* | 34,280 |                    37,210 |
| Cutting and Slicing Machine Setters, Operators, and Tenders | 1,843* | 37,450 |                    34,620 |
| Packaging and Filling Machine Operators and Tenders | 8,880* | 28,730 |                    30,160 |
BLS, OES, 2018
* Denotes Emsi value because 2018 value was suppressed.
Training the Talent of Tomorrow  
A number of college and universities and a network of community colleges in Virginia offer programs with a specialization in the life sciences that provide an ample supply of highly skilled talent.
2016-2017 Select Degrees Conferred in Life-Sciences Related Programs
(Excluding Distance-Learning and Online Degree Completions)
| | |
| --- | --- |
| Program Name | Total |
| Agricultural Engineering |               83 |
| Bioengineering and Biomedical Engineering |             217 |
| Biological and Biomedical Sciences |          3,786 |
| Biological and Physical Sciences |             874 |
| Chemical Engineering  |             193 |
| Clinical/Medical Laboratory Technician |               69 |
| Computer & Software Engineering |             450 |
| Electrical & Electronical Engineering |             625 |
| Engineering Mechanics & Physics |               57 |
| Engineering Technologies and Engineering-Related Fields |             450 |
| Environmental Science |             246 |
| Health Information & Medical Records Technology |               79 |
| Industrial Engineering  |             261 |
| Information Science Studies |             414 |
| Information Technology |             140 |
| Mechanical Engineering |             893 |
| Medicine |             549 |
| Neuroscience  |             285 |
| Physics |             389 |
| Systems Engineering |             146 |
| Total Life Sciences and Related Degrees Conferred |        10,206 |
NCES, IPEDS, 2018
Virginia schools graduated an additional 2,700 degrees through online programs in these same areas, with many recipients residing in Virginia. 
Virginia University Programs
Eastern Virginia Medical School (EVMS)
EVMS is home to the National Center for Collaboration in Medical Modeling and Simulation (NCCMMS), a research center dedicated to improving patient care by advancing the quality and quantity of medical modeling and simulation-based training and education available to students and practitioners.
George Mason University (GMU)
The George Mason University National Center for Biodefense and Infectious Diseases (NCBID) houses the Biomedical Research Lab (BRL), one of 13 regional biocontainment laboratories constructed with funding support from the National Institute of Allergy and Infectious Diseases/National Institutes of Health (NIAID/NIH). The $50-million, 52,000-square-foot, stand-alone, high-security facility is located adjacent to Mason's Science and Technology Campus in Manassas.  
GMU's School of Systems Biology provides instruction on cell and molecular biology, microbiology and infectious diseases, and bioinformatics and computational biology.
Hampton University
At Hampton, the Center for Advanced Medical Instrumentation (CAMI) houses the first graduate programs (M.Sc. and Ph.D.) in medical physics in Virginia, and the only ones available nationally from historically black colleges and universities (HBCU). The Hampton University Proton Therapy Institute (HUPTI) is one of the largest free-standing proton therapy facilities in the world.
Old Dominion University (ODU)
ODU's School of Medical Diagnostic & Translational Sciences offers a coordinated program of courses and clinical laboratory experiences leading to Bachelor of Science degrees in medical technology, nuclear medicine technology, as well as a program in cytotechnology.
The Frank  Reidy Research Center for Bioelectrics (FRRCBE) studies the interaction of electromagnetic fields and ionized gases  with  biological  systems, and uses this knowledge  to  optimize  and  develop applications in biotechnology,  medical  diagnostics  and therapeutics, food  and  other  industrial processing  and  sterilization, and  environmental  remediation.
University of Virginia (UVA)
UVA is among the top public institutions in the country. The University's Biomedical Engineering (BME) program is regularly recognized among the top programs in the country for its research, educational, and translational activities. The program's colocation within the highly ranked UVA School of Medicine and Health System allows for partnerships between engineers and clinicians. Within the BME, the Coulter Translational Research Partnership is a $26-million program that funds cutting-edge biomedical technologies with the purpose of improving clinical practice.
The Institute for Nanoscale and Quantum Scientific and Technological Advanced Research (nanoSTAR) encompasses nanoscale and quantum research, education, and business development projects in three broad theme areas: electronics, biology and medicine, and energy and the environment.
Also at UVA, the Biomedical Sciences Graduate Program (BIMS) is a vibrant interdisciplinary graduate program committed to training Ph.D candidates in becoming the next generation of scientific leaders.
Virginia Commonwealth University (VCU)
VCU Life Sciences is housed in the Eugene P. and Lois E. Trani Center for Life Sciences, a 132,000-square-foot building that features classrooms, lecture halls, and instructional laboratories, as well as a 3,000-square-foot rooftop greenhouse and an aquatics facility. Programs at VCU include the Center for the Study of Biological Complexity and Chemical and Life Science Engineering. The Center for Clinical and Translational Research (CCTR) is the first academic health center in Virginia to join a national consortium of 60 research centers sponsored by the NIH's National Center for Advancing Translational Sciences (NCATS).
The VCU Department of Biomedical Engineering (VCU BME) program was founded in 1984, making it one of the first biomedical engineering programs established in Virginia. VCU BME has an undergraduate program leading to a B.S. and a graduate program leading to an M.S. and Ph.D. The department maintains a close collaborative relationship with VCU Medical Center, one of the country's leading academic medical centers.
Researchers and students in the Department of Chemical and Life Science Engineering apply their talents to projects in a variety of areas including departmental focal areas of pharmaceutical engineering, stem cell engineering, nanotechnology, and materials science
Virginia Tech
Virginia Tech is home to a number of programs related to the life sciences. These include:
The Fralin Life Science Institute, with research initiatives that include vector-borne disease, infectious disease, plant sciences, ecology and organismal biology, obesity, and cancer biology.
The Virginia Tech - Wake Forest University School of Biomedical Engineering & Sciences (SBES), a fully joint graduate program formed in 2003 that brings together three prestigious academic institutions: the College of Engineering at Virginia Tech, the Wake Forest School of Medicine, and the VA-MD Regional College of Veterinary Medicine. Graduate students may pursue master's or doctoral degrees in biomedical engineering, as well as two combination degrees offered through the two medical schools.
The Virginia Tech Carilion School of Medicine is a unique, public-private partnership between a cutting-edge research university and a major health care institution.
Institute for Advanced Learning and Research (IALR)
IALR's research includes using biotechnology to advance agriculture and horticulture by pioneering a marketable product and/or process. The two main areas of focus at its automated state-of-the-art greenhouse facility include bioenergy feedstocks and high-value horticulture research.
Virginia's Community Colleges
Northern Virginia Community College (NOVA) offers coursework at its Manassas and Loudoun campuses to start a career as a technician or entry-level employee in the industry and work towards an Associate in Applied Science (A.A.S.) degree in biotechnology.
Virginia Western Community College offers a Career Studies certificate in biotechnology
J. Sargeant Reynolds Community College offers a number of healthcare and medical technician programs, including a Career Studies certificate for health science and a medical laboratory technology (A.A.S) degree. The college also offers an Associate of Science degree with a chemical/biological engineering specialization
For nearly four decades, we have benefited from a dedicated, skilled workforce in Virginia that is committed to our mission, and we look forward to furthering our impact on the Commonwealth's economy.

Paul Vitagliano VP and GM, Clinical Diagnostics, Thermo Fisher Scientific
Business Climate
Consistently ranked as one of the top states for business, Virginia offers an environment where life sciences companies will find success.
Read More
Virginia offers a welcoming climate for companies and is recognized as a top-ranked state for business, coming in at No. 1 by CNBC and No. 4 by Forbes.com in their annual best states for business rankings.
Virginia Catalyst has funding opportunities to support collaborative projects in the Commonwealth and is home to the Virginia Neuroscience Initiative. The organization has now awarded 31 grants totaling over $15.9 million, combined with $33.4 million in matching funds.
The Center for Innovative Technology's (CIT) GAP BioLife Fund makes seed-stage equity investments in Virginia-based life sciences companies with a high potential for achieving rapid growth and generating significant economic return.
Virginia Bio is the nonprofit trade association that represents the biosciences in Virginia, made up of over 250 member organizations
Virginia ranked No. 3 in both the number of SBIR awards granted and the value of these awards in 2018. 
Virginia ranked No. 14 in the number of venture capital deals and No. 19 in the U.S. in the value of venture capital deals in 2018. 
A number of incentives are available to life sciences companies in Virginia, including a refundable research and development tax credit, a major research and development tax credit, a capital gains exemption, and a qualified equity and subordinated debt investment (Angel Investor) tax credit.