Assets
An abundant supply of raw material and exceptional logistics infrastructure make Virginia a natural landing point for companies in the wood products industry.
Read More
Virginia serves as an ideal location for wood products companies, with its abundant forestland combined with a transportation network that provides convenient access to customers. The Commonwealth's strong infrastructure ensures optimal access to major east/west and north/south interstate highways, rail lines, and seaports.
Virginia's exceptional logistics include:
Six interstate highways
Two Class 1 railroads – CSX and Norfolk Southern
3rd-largest port on the East Coast – The Port of Virginia
Raw Material Supply
More than 16 million acres - over 62% of Virginia - qualifies as forestland. Of this forestland, 15.3 million acres are commercial timberland, with the majority (more than 13 million acres) privately owned. Virginia's climate and varied topography support diverse forests and timber supplies. Hardwood and hardwood-pines make up more than 12.7 million acres of the Commonwealth's forests – more than 79%.  Pine forests represent approximately 3.2 million acres, or 21% of Virginia's forestland.
Virginia is uniquely qualified to ensure and demonstrate the sustainability of our forest resources.  The ratio of the forests' annual growth compared to harvest volume is more than 2.3:1 for softwood species and 2.6:1 for hardwood species.  Virginia's harvest notification law ensures monitoring of every timber harvest by the Virginia Department of Forestry (VDOF) and the annual statewide BMP audit process validates the implementation of water quality protection.  Virginia has a robust professional logging force, educated and supported by the SHARP logger training program.  Reforestation of timberlands is supported by a state cost-share assistance program and VDOF's tree improvement research program.  The state seedling nurseries produce over 30 million pine and hardwood seedlings a year to be planted by Virginia forest landowners.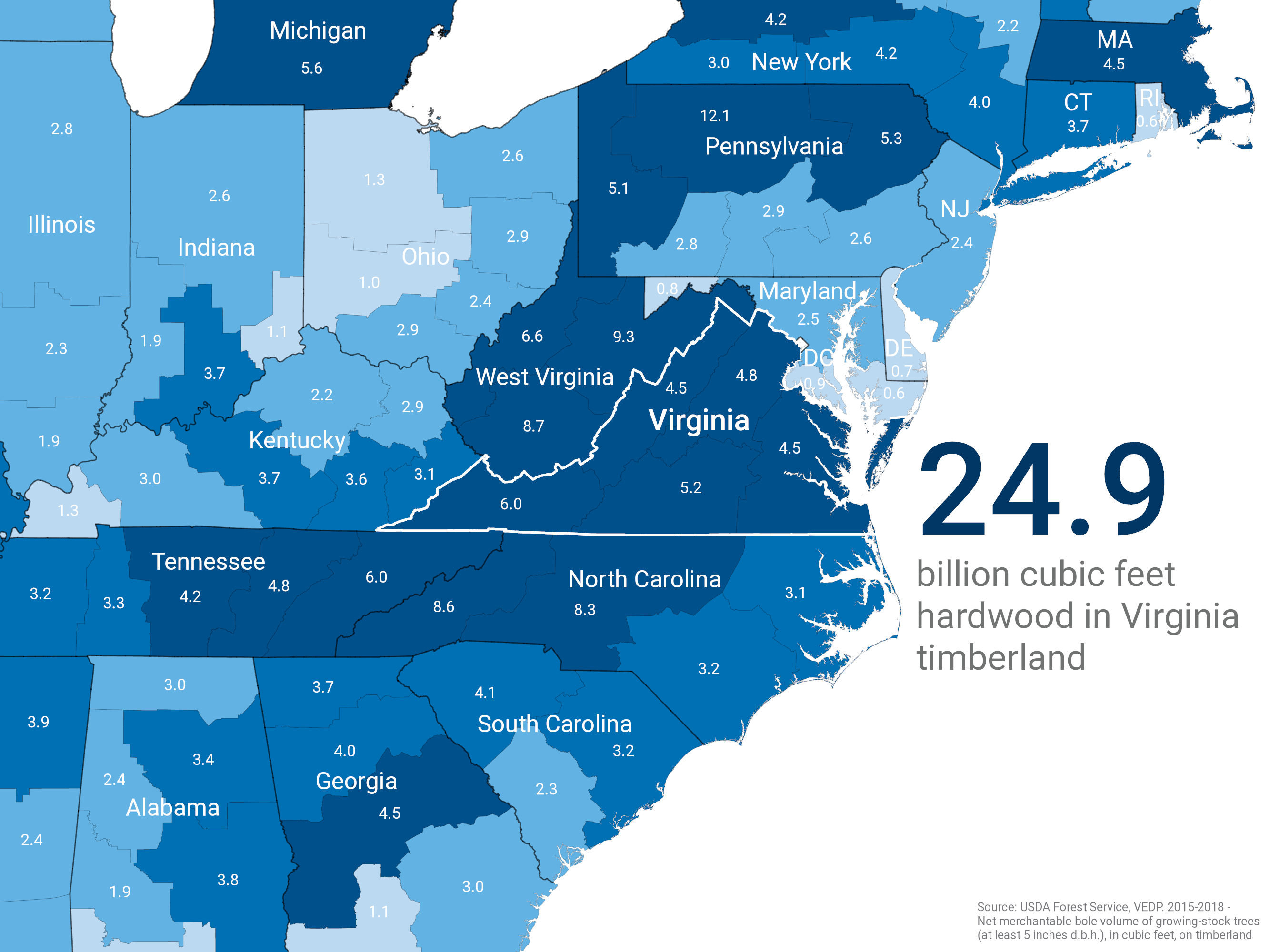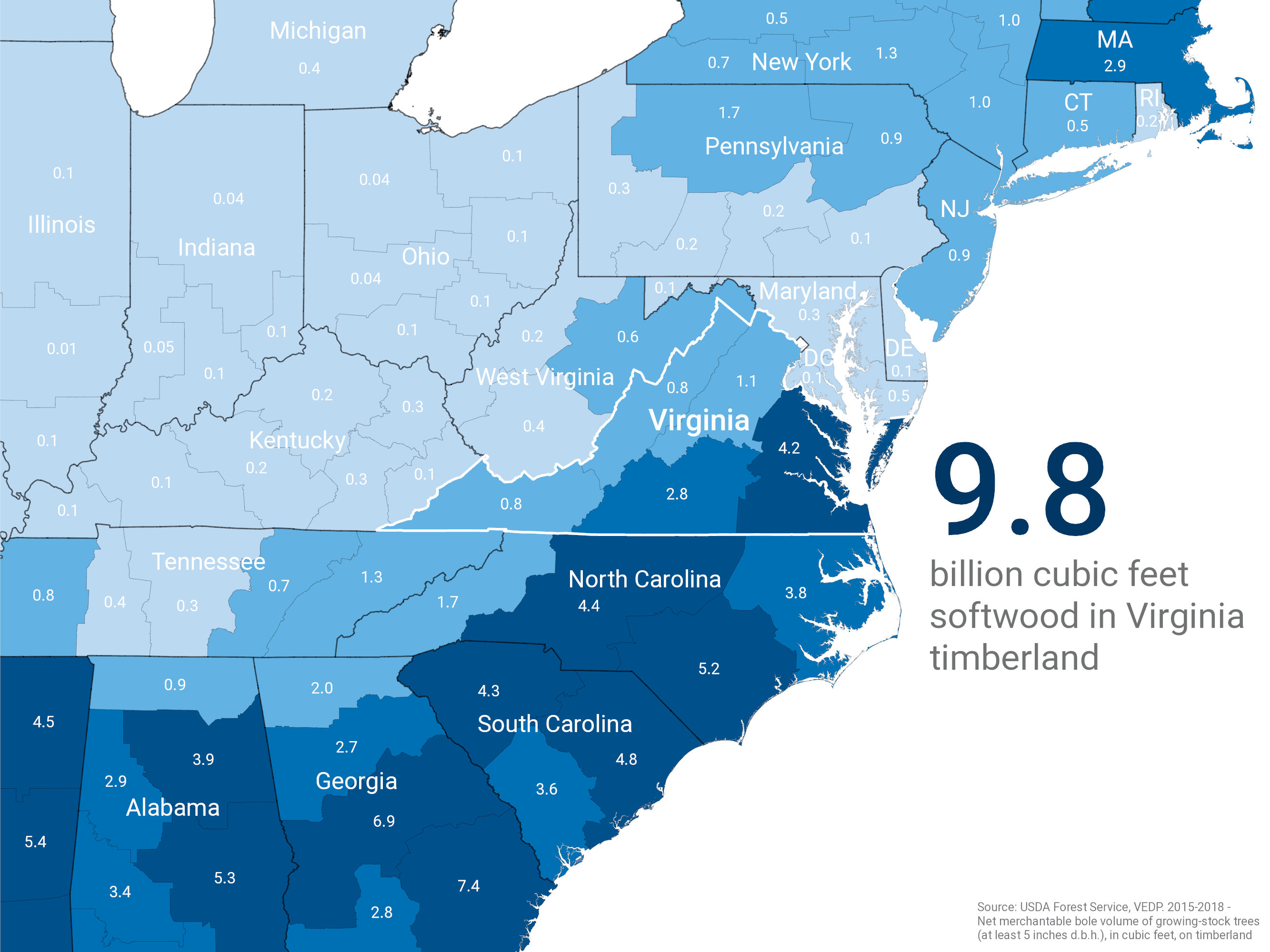 In addition to raw resources, Virginia has a strong network of diverse mills producing material to be used for further value-added processing. A map of mills in Virginia provided by the Southern Group of State Foresters can be found here.
Access to Customers
A Virginia location provides end-users access required by companies in the wood products industry. Virginia is located within a one-day drive of 47% of the U.S. population and major population centers in the Northeast, a key advantage for distribution and supply of construction materials.
For suppliers to major wood products companies, Virginia has a large existing base of industry anchor companies, such as Lumber Liquidators, American Woodmark, and Basset Furniture.  
As more European wood products companies look to enter the U.S. market, Virginia's combination of raw material supply and international connections through The Port of Virginia and Washington Dulles International Airport are hard to beat.
Workforce
Virginia's wood products industry employs more than 31,000 people. Wood products accounts for 13% of Virginia's total manufacturing employment and is the 3rd-largest manufacturing industry.
Read More
Southern Virginia Higher Education Center, South Boston
Resources exist throughout the Commonwealth to supply workers and industry R&D expertise.
Virginia Tech
Virginia Tech's College of Natural Resources and Environment contains the Department of Forest Resources and Environmental Conservation, which focuses on applications to uncover the science needed to manage forests and other natural resources. The Department of Sustainable Biomaterials develops the tools and skills to invent the next generation of biomaterials and to improve sustainability and efficiency of design and production.
The Thomas M. Brooks Forest Products Center is a 35,000-square-foot center that contains labs for wood-based composites manufacture and testing, a high-bay wood engineering lab with full-scale timber testing equipment, the William A. Sardo Pallet Laboratory, and the Center for Unit Load and Design Laboratory.
Established as a college center in 2002, the Sustainable Engineered Materials Institute seeks to improve the relationship between the development and manufacture of wood-based composites and existing forest management practices. SEMI addresses the design and study of wood-based composites and the improvement of forest management practices.
Virginia State University (VSU)
VSU, through its College of Agriculture, partners with Virginia Tech to form Virginia Cooperative Extension. In addition, VSU has identified three potential focal areas for its Natural Resource and Forestry program: small woodlot management, urban forest management, and alternative forest production systems.
Southern Virginia Higher Education Center (SVHEC)
SVHEC's R&D Center for Advanced Manufacturing & Energy Efficiency (R&D CAMEE), established in 2006, provides three core services to small- and medium-sized businesses: technology adoption, custom production runs, and applied research.  A diverse research portfolio includes projects ranging from the production of affordable, energy-efficient housing to certifying Southern yellow pine as a building material for cross laminated timbers. R&D CAMEE's research has also led to a pending patent on a unique adaptive walking stick (The Raising Cane Project) and an innovative, recyclable wine barrel.
Virginia's Existing Workforce for Wood Products Manufacturers
| | | |
| --- | --- | --- |
| Selected Wood Products Occupations | Virginia Employment | Virginia Median Salary |
| Assemblers and Fabricators, All Other, Including Team Assemblers | 19,590 | $29,180 |
| Cabinetmakers and Bench Carpenters | 2,890 | $33,390 |
| Carpenters | 16,670 | $41,340 |
| Coating, Painting, and Spraying Machine Setters, Operators, and Tenders | 1,480 | $33,610 |
| First-Line Supervisors of Production and Operating Workers | 12,790 | $61,690 |
| Furniture Finishers | 400 | $29,450 |
| Industrial Machinery Mechanics | 9,060 | $50,230 |
| Inspectors, Testers, Sorters, Samplers, and Weighers | 9,670 | $36,770 |
| Paper Goods Machine Setters, Operators, and Tenders | 2,740 | $41,170 |
| Sawing Machine Setters, Operators, and Tenders, Wood | 1,880 | $28,340 |
| Upholsterers | 910 | $31,330 |
| Woodworking Machine Setters, Operators, and Tenders, Except Sawing | 2,090 | $28,590 |
Source: U.S. Bureau of Labor Statistics, 2017 
Logistically, the access that Virginia has fits our business model, and from a resource standpoint, Virginia cannot be beat. All of these factors have played an important part in leading us to Virginia, and we look forward to a long and prosperous future here.

Darren Whitmer General Manager, Speyside Bourbon Cooperage, Inc.
Business Climate
Virginia is consistently ranked as a top location for business, and boasts a stable pro-business climate. Virginia is a right-to-work state with the 9th-lowest unionization rate in the U.S. at 5.9%.
Read More
Virginia offers a welcoming business climate for manufacturers and is recognized as a top ranked state for business, coming in at No. 1 by CNBC and No. 4 by Forbes.com in their annual best states for business rankings.
Electricity rates are below the U.S. average at 6.26 cents per kilowatt hour vs. 6.88 cents nationally.
Unemployment insurance taxes are the 7th-lowest in the nation and 53% lower than the national average.
Average workers' compensation costs are among the nation's lowest.
Effective tax rates for labor-intensive manufacturing rank No. 2 according to the 2015 Location Matters Study by the Tax Foundation.
The corporate income tax rate of 6%, not increased since 1972, demonstrates the Commonwealth's stability for business.
The Agriculture and Forestry Industries Development Fund is a discretionary incentive designed to grow Virginia's agriculture and forestry industries. AFID grants are made to localities at the discretion of the Governor with the expectation that the grant will be critical to the success of a project, resulting in the creation of new jobs and investment from companies that add value to Virginia-grown agriculture and forestry products.