Assets
Virginia's central East Coast position and advanced infrastructure, including The Port of Virginia, provide an ideal location for companies to get products into the hands of their customers quickly.
Read More
Major retailers and distributors continue to chose a Virginia location for their supply chain operations. These include Walmart, Target, Amazon, Home Depot, Backcountry.com, Dollar Tree, Lidl, Emser Tile, Lumber Liquidators, and many others.
The Commonwealth's strong transportation infrastructure ensures optimal access to major east/west and north/south interstate highways and rail lines, regional and international airports, and seaports. The East Coast's longest thoroughfare, Interstate 95, runs directly through Virginia, providing convenient access to Northeast markets. Being located in Southwest Virginia can unlock markets to the South, including Atlanta via I-77 and Memphis and Nashville along I-81.
Virginia's exceptional logistics include:
Six interstate highways
Two Class 1 railroads – CSX and Norfolk Southern
16 commercial airports serving Virginia, including Washington Dulles International Airport
3rd-largest port on the East Coast – The Port of Virginia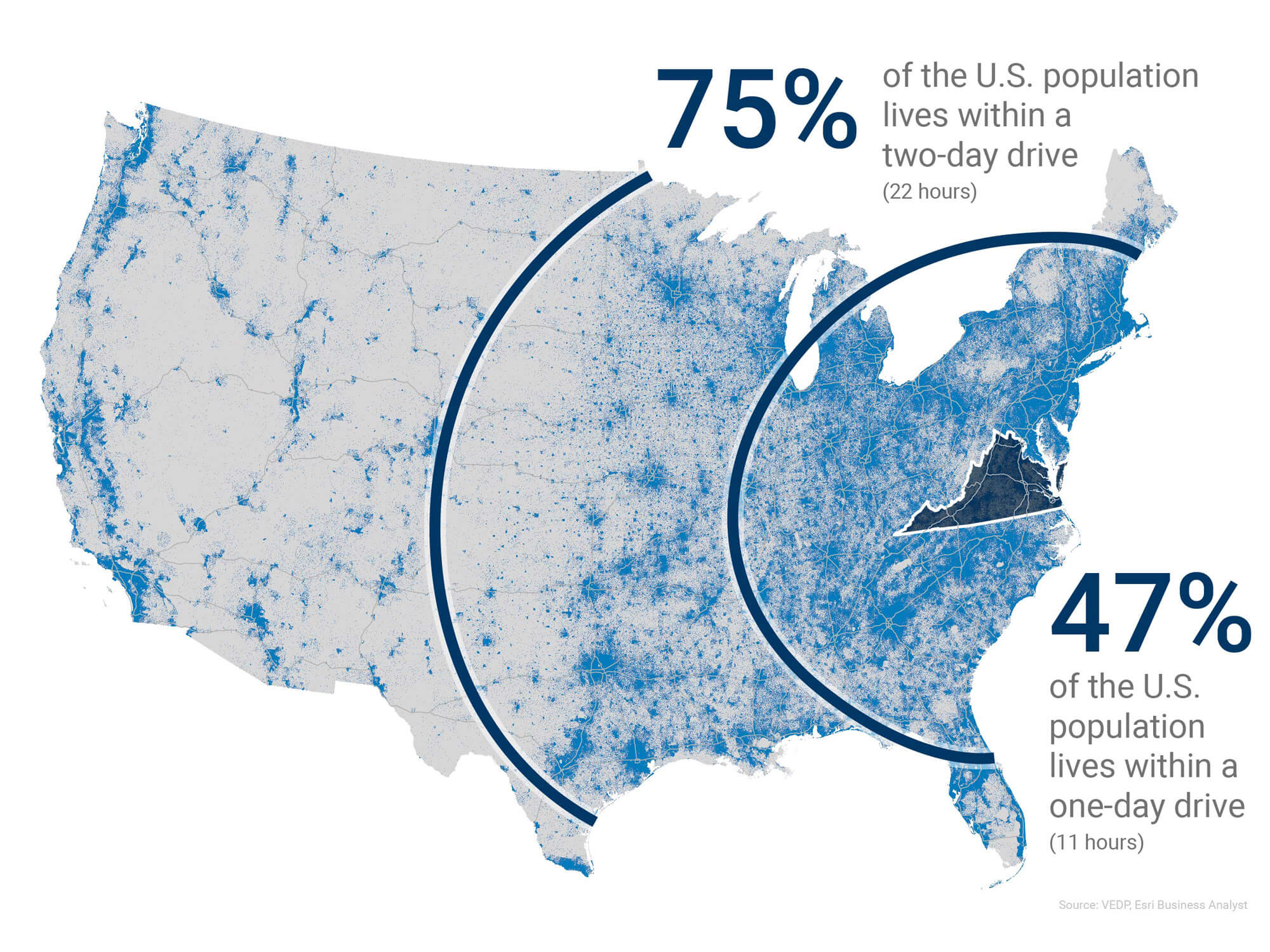 The Port of Virginia
The Port of Virginia is planning for additional growth with major expansion projects currently underway, and is the only port on the East Coast authorized for 55-foot channel depths to handle the larger cargo ships of the future as first and last port of call. 
Dredging work started December 2, 2019, to deepen the western side of Thimble Shoal Channel to 56 feet for commercial channels, after which, the Norfolk Harbor will be able to host two ultra-large container vessels.
Located 18 nautical miles from open sea with no aerial obstructions.
Transit time from Hong Kong is 37 days via the Panama Canal (11,021 nautical miles) and 34 days via the Suez Canal (11,705 nautical miles).
Currently has 50 ft./15.24 m. channels and berths, with congressional authorization for 55 ft./16.76 m. deep channels.
2 Class I railroads operate on-dock (NS and CSX), providing two-day double-stack rail to and from Midwest markets. Columbus can be reached in 1.5 days – the fastest of any East Coast port. Rail transit time to Chicago is 47 hours.
37% of cargo arrives and departs the port by rail, the largest percentage of any U.S. East Coast port.
TEU Capacity at Port Facilities is Growing
Norfolk International Terminals - 1,426,800 TEUs.
Virginia International Gateway - 1,196,800 TEUs.
Portsmouth Marine Terminal - 437,500 TEUs.
Virginia Inland Port - 78,000 TEUs.
Richmond Marine Terminal - 50,000 - 60,000 TEUs.
Air Cargo
Washington Dulles International Airport (IAD) is a leading air cargo gateway centrally located in the Mid-Atlantic region that serves a large catchment area along the East Coast. Washington Dulles handles over 300,000 tons of cargo annually and is serviced by more than 40 airlines providing connections to over 57 international and 86 domestic destinations.
Washington Dulles offers a cargo-friendly environment with 24-hour operations, no night-time flight restrictions, and the ability to handle the world's largest aircraft. The airport also has large tracts of land available for air cargo development, which will allow for direct airside access and close proximity to major highways.
On average, more than 140 million pounds of cargo are handled annually at Richmond International Airport (RIC) by air carriers, including Federal Express (FedEx) and United Parcel Service (UPS). RIC's cargo facilities currently offer 750,000 square feet of cargo apron and 142,000 square feet of air cargo warehouse space with direct apron access.
Commonwealth Center for Advanced Logistics Systems (CCALS)
CCALS is a unique collaboration between industry, government, and universities designed to deliver transformational improvements to logistics systems. CCALS' industry-led, university-implemented applied research capability accelerates the transition of technologies from fundamental developments through proof of concept and commercialization.
Workforce
Virginia's supply chain industry employs over 86,000 people in 2018. The largest sectors by employment are warehousing (30,555), trucking (20,780), and transportation support (17,712).
Read More
Liberty Warehousing, York County
Existing Workforce
Virginia has a ready supply of workers trained and ready to serve the supply chain industry. In Virginia, companies will see a cost advantage over Northeast markets for labor.
| | | | |
| --- | --- | --- | --- |
| Selected Occupation | Virginia Employment | Virginia Median Salary | U.S. Average Salary |
| Office Clerks, General |                77,480 |               32,400 |                32,730 |
| Customer Service Representatives |                71,380 |               32,400 |                33,750 |
| Stock Clerks and Order Fillers |                55,090 |               25,380 |                25,700 |
| Laborers and Freight, Stock, and Material Movers, Hand |                55,950 |               26,540 |                28,260 |
| Heavy and Tractor-Trailer Truck Drivers |                42,820 |               40,620 |                43,680 |
| Shipping, Receiving, and Traffic Clerks |                15,020 |               33,430 |                33,030 |
| Packers and Packagers, Hand |                11,720 |               22,000 |                24,580 |
| Industrial Truck and Tractor Operators |                13,550 |               36,550 |                34,750 |
| Inspectors, Testers, Sorters, Samplers, and Weighers |                  9,930 |               38,190 |                38,250 |
| Production, Planning, and Expediting Clerks |                  8,000 |               52,160 |                47,580 |
| Logisticians |                  7,810 |               81,080 |                74,600 |
| Cargo and Freight Agents |                  3,110 |               46,960 |                43,210 |
| Order Clerks |                  2,030 |               32,610 |                33,460 |
| Weighers, Measurers, Checkers, and Samplers, Recordkeeping |                  1,380 |               33,110 |                32,310 |
Source: BLS, OES, 2018
Training the Future Supply Chain Workforce
A number of university programs in Virginia offer a specialization in supply chain management. In fact, Old Dominion University is the only university in the United States to specifically offer a maritime and supply chain management undergraduate major and one of only two universities to offer an undergraduate maritime major. In addition, Virginia Commonwealth University, Longwood University, Virginia Tech, and the University of Virginia all have supply chain courses available.
At the community college level, Paul D. Camp Community College in Suffolk has developed a Logistics Management Career Studies certificate designed to prepare workers for careers in transportation and warehousing management. In 2019 PDCCC opened its Regional Warehouse and Distribution Training Facility that replicates a real-world warehouse environment for customizable training. The Community College Workforce Alliance (CCWA) offers the Certified Logistics Technician (CLT) certification program, which covers a wide range of skills necessary for success in the logistics industry. These skills include safety, quality control, supply chain management, receiving, storage, and communications.
Additional programs in Virginia include:
George Mason University School of Public Policy Center for Transportation Policy, Operations, and Logistics
Old Dominion University Maritime Institute
Virginia Tech Center for Packaging and Unit Load Design
Virginia is also home to Army Logistics University (ALU) at Fort Lee. ALU is a composite campus for DoD uniformed and civilian leader education. This learning center provides professional military education, civilian education, and joint, multinational, and interagency education supporting America's DoD logistics, capability development, and operations research/systems analysis leaders. Virginia's large military presence provides an ongoing source of talent from exiting military joining the civilian workforce.
Virginia has always been an important market for Target. A strong local workforce and close proximity to the nearby port make the Suffolk distribution facility ideal for expansion. We look forward to serving guests across the East Coast from this enhanced facility.

Keri Jones Former Executive VP, Global Supply Chain & Ops, Target Corporation
Business Climate
Consistently ranked as one of the top states for business, Virginia offers a low cost of operations and stable taxes, an acclaimed business environment, and opportunities for sustainable operations.
Read More
Virginia offers a welcoming business climate for companies and is recognized as a top ranked state for business, coming in at No. 1 by CNBC and No. 4 by Forbes.com in their annual best states for business rankings.
2019 electricity rates are below the U.S. average at 6.24 cents per kilowatt hour vs. 7.01 cents nationally.
2019 unemployment insurance taxes are the 5th-lowest in the nation and 43% lower than the national average.
Effective Tax Rates for distribution centers rank No. 12 according to the 2015 Location Matters Study by the Tax Foundation.
Average workers' compensation costs are among the nation's lowest.
Tax credit and grant incentive programs are available for companies using port facilities in Virginia. These programs include The Port of Virginia Economic and Infrastructure Development Grant, the Port Volume Increase Tax Credit, the International Trade Facility Tax Credit, and the Barge and Rail Usage Tax Credit.
Case Studies
Strong as STIHL in Virginia Since 1974
The Stihl family decided to open a manufacturing facility in Virginia Beach in 1974. For over 45 years, STIHL has been an invaluable corporate partner in the Commonwealth.
Read Case Study
Lidl Launches Expansion into U.S.
In need of two sites and two workforces, Virginia presented Lidl with the best business case to successfully compete.
Read Case Study