Assets
Virginia: America's Corporate Hometown
Virginia offers an unparalleled talent base with one of the largest concentrations of tech workers in the country supplied by the Commonwealth's leading higher education system, which develops a robust pipeline of talent to meet companies' needs.
Read More
Virginia's combination of access to talent, connectivity, and livability is hard to match. Virginia's diversity offers choices for a company choosing a new headquarters location. Headquarters in Virginia mostly concentrate in the Commonwealth's larger MSAs in Northern Virginia, Richmond, Hampton Roads, and Roanoke.
Northern Virginia is part of the Washington, D.C. MSA, the largest producer of tech talent in the country. NOVA is one of the country's most diverse and international regions, providing residents vibrant, cosmopolitan communities to call home. Real estate options range from greenfield sites in Loudoun and Fairfax to skyscrapers perched atop the Potomac River with views of the nation's capital. In November of 2018, it was announced that Amazon will invest $2.5 billion to establish a major new headquarters in Northern Virginia, which will employ at least 25,000 people within 12 years. The headquarters will be located in National Landing, a joint site in Arlington County and the City of Alexandria.
In Richmond, a company will find a thriving, dynamic, revitalized metro with a rich culture, historic sites, an attractive lifestyle, a lively art scene, and a large corporate community for a region its size. The Greater Richmond region has several potential sites that are suitable for corporate headquarters. Options range from downtown high-rises along the James River to suburban, master-planned office parks.
Hampton Roads, an inclusive, historic region in southeastern Virginia, boasts 2,600 miles of shoreline and a rich quality of life enjoyed by 20% of Virginia's population. Hampton Roads is home to world-class port facilities, major military commands, and diverse real estate. Options range from Fort Monroe, a scenic and historic location surrounded by water, to a 350-acre greenfield property on the James River in Suffolk, to an urban campus minutes from the beach at the Virginia Beach Town Center.
The Roanoke region is the largest metropolitan region in western Virginia. Residents enjoy a thriving outdoor culture that includes the Appalachian Trail, Blue Ridge Parkway, James River, and Smith Mountain Lake. The region is home to 600 miles of trails, 22 miles of urban greenways, 24 rivers and creeks, 300,000 acres of national forest, and the 2nd-largest municipal park in the United States (Carvins Cove). Class A office space is available in the region, including locations in downtown Roanoke.
Fortune 1000 Companies in Virginia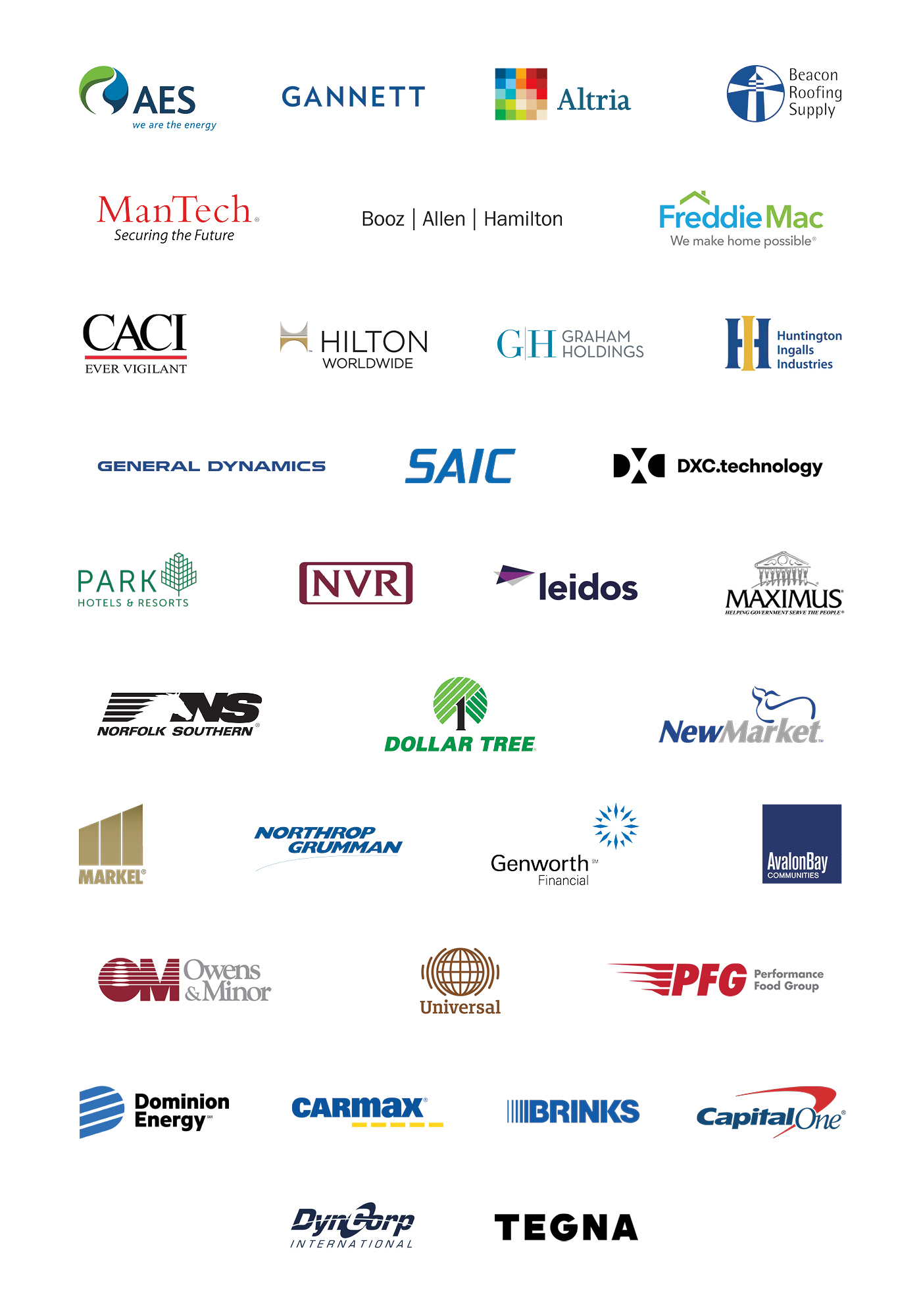 Talent
A Virginia location gives companies access to world-class talent. Virginia's nationally ranked colleges and universities are preparing the workforce of tomorrow, today.
Over 550,000 students are enrolled in Virginia's colleges and universities each year – the 11th-highest enrollment in the country.
38% of the population over the age of 25 has a bachelor's degree or higher – ranking No. 7 in the U.S. in educational attainment.
Three of the country's top 30 public universities as ranked by U.S. News & World Report are in Virginia - the University of Virginia, the College of William & Mary, and Virginia Tech.
Virginia's K-12 system prepares students from a young age for success in a modern economy. The Commonwealth's leaders have made access to STEM education a priority for students.
Virginia is the 4th-ranked state in the country for percentage of students who have passed an AP STEM exam
The Virginia Department of Education has incorporated computer science education into the Standards of Learning framework.
U.S. News & World Report's "America's Best High Schools" names 15 Virginia high schools as gold medal schools, 39 silver medal schools, and 64 bronze medal schools. Fairfax County's Thomas Jefferson High School for Science and Technology is ranked as the 6th "Best High School" in the nation.
Wallet Hub ranks Virginia No. 6 in their 2017's States with the Best & Worst School Systems ranking.
More than 65% of high school graduates continue to a two-or four-year degree program or other continuing education plan.
Virginia's existing talent base is substantial and diverse for new headquarters operations entering the state.
2nd-highest concentration of tech workers in the country according to Cyberstates 2019.
4th-highest number of Active Duty Members in the U.S. comprising a robust pool of skilled, dedicated workers
One of the largest pools of international talent nationwide in Northern Virginia. Between 2010 and 2016, the area saw the U.S.'s 4th-largest growth in international population.
Hampton Roads and Richmond were ranked No.1 and No.2 by TIME for areas where millennials were moving.
The Washington, D.C. area ranked as Best City for Women in Tech in 2017, according to SmartAsset.
According to a study by The Guardian, 17% of high-tech workers in the D.C. Metro region are African American.
Virginia ranked 12th Best State for Education, according to U.S. News & World Report, 2018.
Connectivity
88.7% of Virginians have access to broadband 100mbps or faster
BROADBANDNOW
Virginia is a leader in digital and physical connectivity, linking headquarters to customers and data worldwide.
An early pioneer in internet technology, Virginia has the largest concentration of data centers in the world and the digital infrastructure to support that concentration.
Virginia's physical connectivity allows access to customers and world-wide destinations from a company's base of operations.
Virginia's commercial airports provide nonstop service to 160 destinations worldwide, including Ronald Reagan Washington National Airport and Washington Dulles International Airport, two of the nation's busiest.
Washington Dulles serves 57 international destinations with direct service from 33 carriers.
Virginia's location in the Eastern time zone makes keeping in touch with international locations easier than a location on the West Coast.
Amtrak Virginia offers rail service to more than 23 stations throughout the Commonwealth with 1-train access to cities like Washington, D.C., Philadelphia, New York, and Boston in the Northeast corridor.
Virginia's internal transportation infrastructure easily connects employees to company locations.
Northern Virginia is home to the Washington Metropolitan Area Transit Authority (WMATA), which operates the 2nd-largest heavy-rail transit system and the 6th-largest bus network in the U.S.
Hampton Roads and Richmond have average commute times of 24 and 25 minutes, respectively, and Richmond has been ranked as the least-congested large metro area in the country.
Richmond and Hampton Roads are investing in multimodal public transit and commuting systems, including BRT in Richmond and light rail in Hampton Roads.
Livability
Virginia offers ready access to wide-ranging cultural and recreational amenities and desirable housing options.
Cities in Northern Virginia routinely ranked as some of the most LGBTQ-friendly communities in the country, including Arlington and Alexandria which received a perfect score from the Human Rights Campaign's Municipal Equality Index.
Hampton Roads offers more than 2,600 miles of shoreline and outdoor activities like surfing, fishing, and boating for every weekend warrior.
The Roanoke region is an outdoors paradise with assets such as the Appalachian Trail, Blue Ridge Parkway, James River, and Smith Mountain Lake.
Richmond is a creative hotbed with an arts reputation grounded in world-class art education – VCU School of the Arts is ranked 2nd in the country, and the VCU Brandcenter offers the top advertising program in the U.S.
Virginia has a low crime rate, ranking No.4 nationally in lowest rates of violent crime and No.7 nationally in lowest rates of property crime.
Virginia ranked No.7 Most Charitable State by WalletHub in 2017, which is of particular interest to companies interested in giving back to their communities.
The Commonwealth is ranked No.8 by Forbes.com for best quality of life in its "Best States for Business 2017 study.
Virginia is a wine and craft beer destination unlike any other, with more than 300 wineries and more than 250 craft breweries.
Dominion Energy, Richmond
Workforce
Virginia is known for its world-class post-secondary education system that provides a robust pipeline of new graduates from local and regional universities. Building on our existing educational assets, Virginia provides a stable talent pipeline to support a company's growth plans.
Read More
The Commonwealth provides students high-quality education from some of the nation's best schools at the cutting edge of technology and science, critical thinking, business skills, and advanced degrees to serve the many skill sets needed for a headquarters location.
Virginia's colleges and universities are providing a pipeline of talent in functions typical for a corporate headquarters operation.
2016-2017 Select Degrees Conferred in Business and Related Programs at Virginia Universities and Colleges
| | |
| --- | --- |
| Program Name | Total |
| Accounting | 1,946 |
| Business Administration & Management | 8,860 |
| Business & Commerce | 1,350 |
| Finance | 746 |
| Management Information Systems | 413 |
| Managerial Economics & Operations | 447 |
| Marketing | 877 |
| Communications | 283 |
| Economics | 1,078 |
| Law & Legal Support | 1,543 |
| Math & Statistics | 727 |
| Total Business and Related Degrees Conferred: | 18,270 |
Source: State Council of Higher Education for Virginia (SCHEV)  2018.
Virginia's high concentration of tech talent is being replenished annually by college graduates with IT degrees.
2016-2017 Select Degrees Conferred in IT and Related Programs at Virginia Universities and Colleges 
| | |
| --- | --- |
| Program Name | Total |
| Computer & Software Engineering | 418 |
| Computer & Information Sciences | 1,665 |
| Computer & Information Systems Security | 159 |
| Computer Science | 511 |
| Cyber/Computer Forensics & Electronic Operations | 102 |
| Electrical & Electronical Engineering | 565 |
| Health Information & Medical Records Technology | 41 |
| Information Science Studies | 401 |
| Information Technology | 831 |
| Systems Engineering | 241 |
| Total IT and Related Degrees Conferred: | 4,934 |
Source: State Council of Higher Education for Virginia (SCHEV) 2018
Highly regarded institutions in Virginia serve as fertile recruiting grounds for Virginia's corporate community. Leading programs are found in disciplines like business and law.  
2019 U.S. News and World Report Rankings
| | |
| --- | --- |
| Top Public National Universities | Rank |
| University of Virginia | 3 |
| College of William & Mary | 10 |
| Virginia Tech | 30 |
| George Mason University | 67 |
| Virginia Commonwealth University | 80 |
| Best Undergraduate Business Programs | Rank |
| University of Virginia | 8 |
| Best Graduate Business Programs (2018) | Rank |
| University of Virginia (Darden) | 13 (tie) |
| College of William & Mary (Mason) | 55 (tie) |
| Best Law Schools (2018) | Rank |
| University of Virginia | 9 (tie) |
| College of William & Mary (Marshall-Wythe) | 37 (tie) |
| Washington and Lee University | 26 |
| George Mason University | 41 |
| University of Richmond (Williams) | 50 (tie) |
We have chosen Fairfax County, considered the East Coast center of technology innovation, for its proximity to the nation's capital, a vibrant business community, access to several international airports and Metro's Silver Line, and an incredibly diverse and highly educated workforce.

Michael J. Saylor CEO & Founder, MicroStrategy
Business Climate
Virginia is consistently ranked as a top location for business, and boasts a stable pro-business climate. Virginia's strategic location in the Mid-Atlantic, low costs for operations, renowned talent, and robust infrastructure are the reasons many U.S. and international companies call the Commonwealth home. In addition, a Virginia location offers companies close proximity to the federal government and regulatory agencies.
Read More
Virginia offers a welcoming business climate for companies and is recognized as a top ranked state for business, coming in at No. 1 by CNBC and No. 4 by Forbes.com in their annual best states for business rankings.
Unemployment insurance taxes are the 7th-lowest in the nation and 53% lower than the national average.
Workers' compensation costs are among the nation's lowest (ranked No. 4).
Building costs range from 6% to 21% below the national average, depending on the region.
The corporate income tax rate of 6%, not increased since 1972, demonstrates the Commonwealth's stability for business.
Effective tax rates for corporate headquarters ranked No. 12 by the Tax Foundation in the 2015 Location Matters study.
AAA bond rating, maintained since 1938 - longer than any other state - demonstrates a well-managed, fiscally responsible state government.
Incentives are available for major corporate headquarters projects, including:
The Major Eligible Employer Grant Program (MEE), a discretionary program used to encourage major basic employers to invest in Virginia and to provide a significant number of stable employment opportunities by either making a significant expansion to existing operations or constructing new ones.
The Virginia Economic Development Incentive Grant program (VEDIG), which assists and encourages companies to invest and create new employment opportunities by locating significant headquarters, administrative, or service sector operations in Virginia.
Tax credits of $1,000 for each new full-time job created over a threshold number of jobs are available to qualified companies locating or expanding in Virginia.
At the state level, Virginia has pursued efforts to promote a clean-energy economy, working to reduce carbon dioxide emissions, enhance energy jobs, and address the effects of climate change. In June of 2017, Virginia joined the U.S. Climate Alliance. Virginia ranked 8th among states in the 2016 U.S. Green Building Council's top states for LEED, with 18,444,309 gross square footage of LEED-certified building space.
Case Studies
Nestlé USA Selects Virginia for New U.S. Headquarters
After an arduous selection process that spanned 20 cities, Nestlé USA announced it would establish its U.S. headquarters in Arlington County, creating 748 new jobs.
Read Case Study
Lidl Launches Expansion into U.S.
In need of two sites and two workforces, Virginia presented Lidl with the best business case to successfully compete.
Read Case Study
Ferguson Seeks State-of-the-Art Corporate Headquarters Site
Ferguson had grown from a local distributor to the nation's leading distributor of residential and commercial plumbing supplies, and still needed to grow its team by hundreds of employees to keep up with its growth.
Read Case Study