Virginia's Historic Win
After a 14-month competitive site selection process during which Amazon received 238 proposals from communities across North America, the tech giant announced plans in 2018 to invest approximately $2.5 billion to establish a major new headquarters (HQ2) in Virginia, creating more than 25,000 high-paying jobs. Virginia successfully secured the historic project through unprecedented state, regional, and local partnerships. The foundation of the cooperative pitch for Amazon HQ2 was centered on Virginia's thriving tech sector and talent—including a commitment to a pipeline for the future.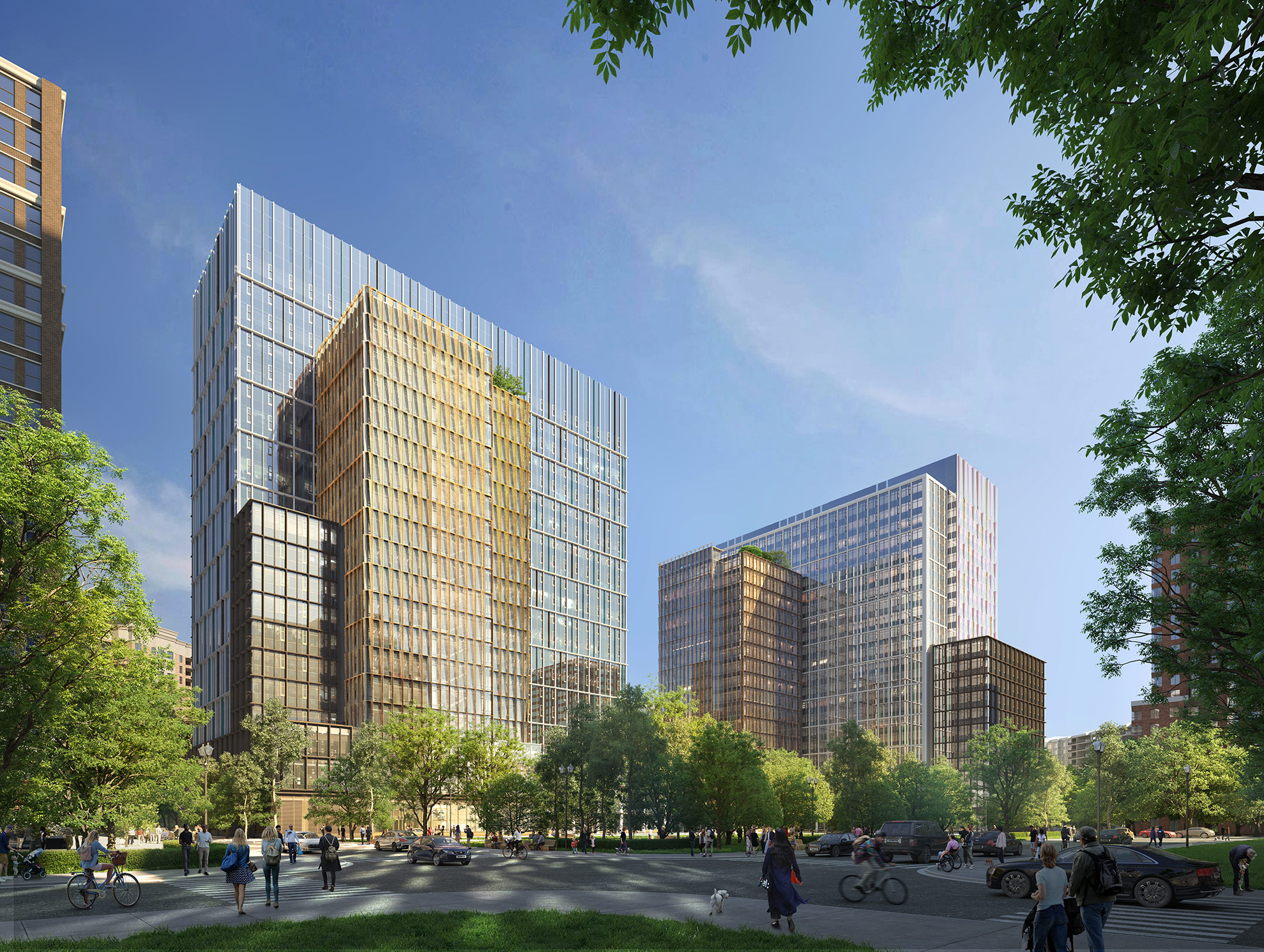 Rendering of Amazon HQ2 at National Landing, Alexandria
Rendering of Amazon HQ2 at National Landing, Alexandria
The Virginia Solution
Virginia's T

ech Talent Investment Program Delivers
The Commonwealth already boasts the highest concentration of tech workers in the nation, with Northern Virginia serving as the hub. Tech talent represents one of Virginia's greatest assets as well as its No. 1 opportunity for job growth, and the Commonwealth devised a plan to bridge the gap and build for the future: Virginia's Tech Talent Investment Program (TTIP).
Virginia committed $1.1 billion to more than double the annual number of graduates in computer science with bachelor's and master's degrees in computer science and related fields, ultimately resulting in more than 32,000 additional graduates in excess of current levels. This pipeline will benefit not only Amazon, but also represents a critical source of tech talent for hundreds of existing Virginia employers, such as Alarm.com, Appian, Capital One, CGI, and Northrop Grumman.
Fourteen Virginia universities will share state funding over the next two decades for the expansion of their degree programs and construction of new facilities, training the next generation of tech talent in the Commonwealth. The investment is a multi-pronged approach, providing performance-based assessments for bachelor's and master's degrees, supporting the associate's tech degree pipeline in community colleges, and investing $50 million over 20 years in K-12 STEM education and internship programming to connect students to tech jobs, fueling a robust talent pipeline for years to come.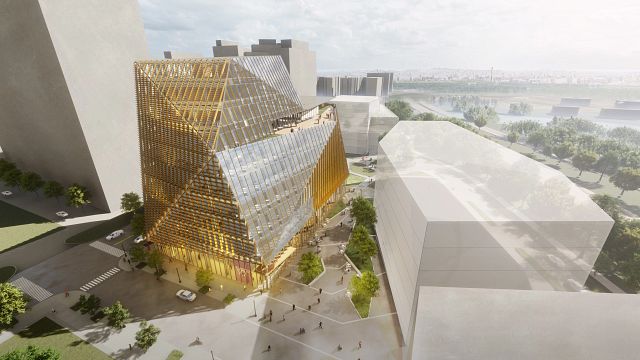 Rendering of Virginia Tech's Innovation Campus, Alexandria
Virginia Tech's $1 billion, 1 million-square-foot graduate Innovation Campus focused on technology positions the university and its future partners near the nation's capital, diverse industries, and leading tech companies, including Amazon. Construction on the Alexandria campus's first academic building, a 300,000-square-foot, gem-shaped structure, is slated to begin this year and open in fall 2024. As of Spring 2021, 80 master's students have begun virtual coursework, and the campus will enroll 750 master's candidates and hundreds of doctoral students and postdoctoral fellows when complete.
George Mason University is also expanding to establish the Institute for Digital InnovAtion and a School of Computing on its Arlington campus, which will increase enrollment from 6,500 computing program students to 15,000 by 2024. The University of Virginia is establishing a School of Data Science endowed by a $120-million private donation—the largest private gift in the institution's 200-year history. The new school will integrate the university's Data Science Institute, which was established in 2013 to conduct research and grant graduate degrees. These investments and partnerships in higher education will train the next generation of tech talent in Virginia, and represent a new model of economic development.
TTIP will also position communities across the Commonwealth for healthier, more diversified economic growth. In addition to the 25,000 direct jobs Amazon will create, the Commonwealth estimates the creation of more than 22,000 permanent, direct and indirect jobs in Virginia. Roughly half of the employment is expected to be in tech positions, with a particular focus on software development, engineering, machine learning and artificial intelligence, user experience design and user interface design.
The primary driver of this entire project was talent. Not just day one talent, but the opportunity to evaluate a talent pipeline.

Holly Sullivan Head of Worldwide Economic Development, Amazon
Tracking HQ2 Progress
In the two-plus years since Amazon announced that Arlington would be home to its highly sought-after HQ2, Northern Virginia's innovation ecosystem has been supercharged. HQ2's campus is taking root in National Landing, comprising parts of Arlington County and the City of Alexandria, overlooking the U.S. Capitol and the Potomac River. The sprawling community includes Virginia Tech's Innovation Campus, transportation infrastructure upgrades to prioritize pedestrian and bicycle traffic, significant retail and affordable housing investments, two 22-story towers currently under construction, and Metropolitan Park, a public open space including a dog park, art walk, and recreation areas.
The second phase of new construction will be sustainable buildings surrounded by nature, including Amazon's recently unveiled Helix — a distinctive double helix structure with two walkable paths of landscaped terrain spiraling up the outside of the building that will feature plants that could be found on a hike in the Blue Ridge Mountains of Virginia — and three LEED Platinum-certified, 22-story towers.
Access to tech talent was a critical site selection factor, and hiring for HQ2 is picking up steam. After beginning virtual interviews in February 2020, Amazon has hired more than 1,600 employees and posted another 600 job listings for the HQ2 site.
The hiring and the talent pipeline is exactly what we'd hope it would be. There's no shortage of applicants and great people to choose from.

Brian Huseman Vice President of Public Policy for Amazon