Regional Talent Solutions and Business Outreach
VEDP's Regional Talent Solutions and Business Outreach team helps support the growth of existing Virginia firms by building relationships with companies that drive Virginia's economy. Through site visits and meetings, the team helps VEDP understand the needs of existing businesses, particularly current and future talent needs. Regional Business Managers learn about challenges and possibilities for growth, identify opportunities to improve Virginia's business climate, and share information about available resources.
VEDP's Regional Business Managers work in partnership with local and regional economic development partners to carry out a targeted outreach strategy to key Virginia businesses and serve as a resource for Virginia's traded-sector and economic-growth driver companies. The team provides support for VEDP's efforts to help companies locate new operations in Virginia and expand existing operations by serving as regional talent subject matter experts and marketing VEDP's two talent-related incentive programs. The Virginia Talent Accelerator Program, delivered by VEDP in partnership with the Virginia Community College System, provides world-class training and recruitment solutions that are fully customized to a company's unique operations, equipment, standards, and culture. The Virginia Jobs Investment Program reduces a company's talent development costs through grant funds, consulting, and coordination with regional partners to streamline company recruitment and training. The team also manages the Virginia Economic Gardening Program, which provides qualifying second-stage companies with custom resources to identify and resolve distinct growth challenges.
For more information on VEDP's Regional Talent Solutions and Business Outreach services, please contact a regional manager.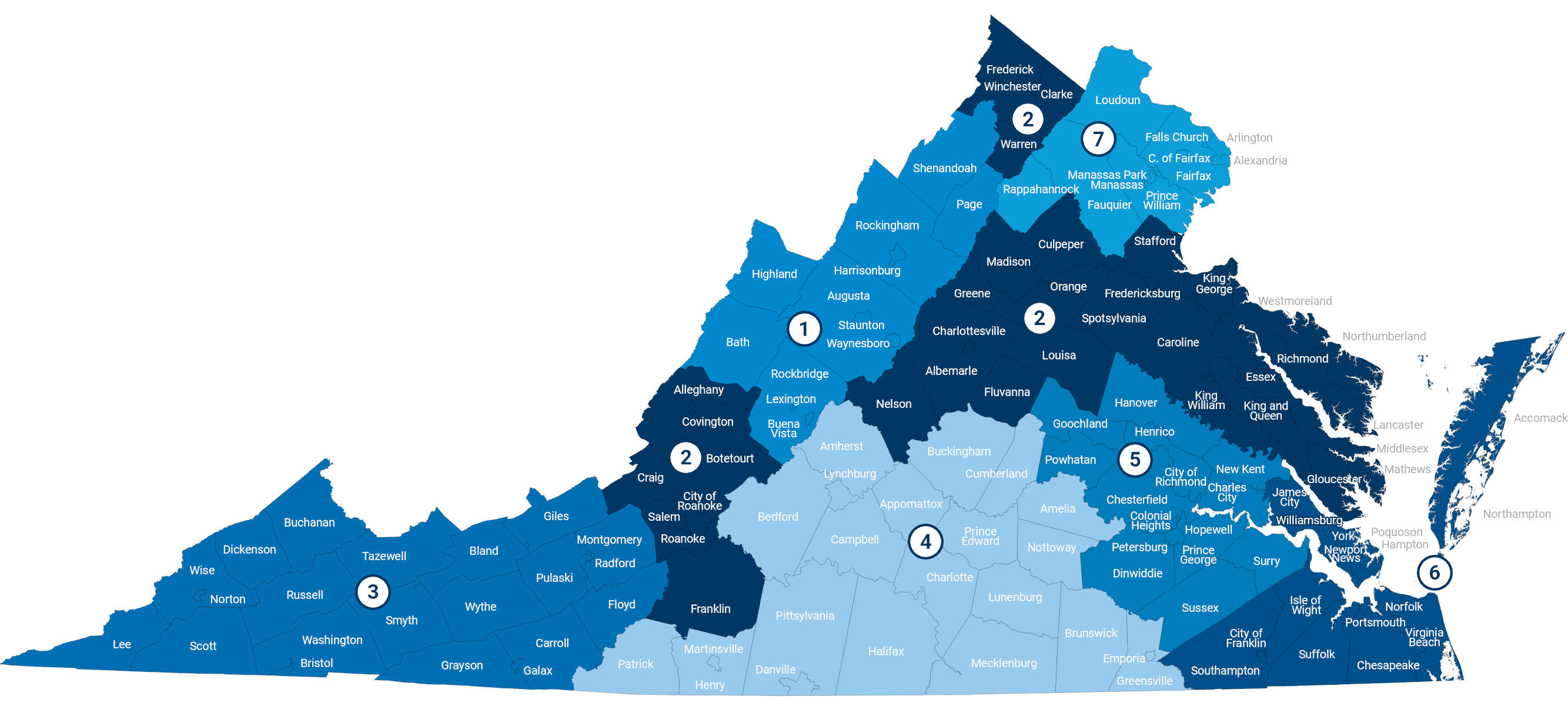 Contact Information
RTSBO Manager
Region
Email
Telephone
Debbie Melvin
1

dmelvin

[at]

vedp.org

804.921.0002
Jason Smith
2

jsmith

[at]

vedp.org

804.545.5735
Jessi Fritz
3

jfritz

[at]

vedp.org

276.791.0794
Shirley Dodson
4

sdodson

[at]

vedp.org

804.545.5719
Maggie Garinther
5

mgarinther

[at]

vedp.org

804.956.2116
Kate Sipes
6

ksipes

[at]

vedp.org

757.807.5789
Barbara Kirkwood-Taylor
7

bkirkwood-taylor

[at]

vedp.org

703.674.8735
 
 
 
 
International Trade
The mission of VEDP's division of International Trade is to increase the number of Virginia companies selling overseas and their volume of international business. VEDP helps both new and experienced exporters enter new international markets.
VEDP's International Trade programs provide direct support to Virginia businesses committed to increasing their international export sales as a corporate growth strategy. These services help businesses identify potential new markets, develop market entry strategies, and locate possible distributors and representatives for products or services – all at little to no cost.
Virginia businesses interested in increasing international sales and growing market share can benefit from export development programs, publications, resources, and market research.
VEDP's International Trade division currently provides the following programs and services:
Global Defense Program
International Market Research
State Trade Expansion Program (STEP)
Trade Missions
Trade Show Program
Virginia Leaders in Export Trade (VALET)
For more information, contact a local Trade Manager.
Contact Information
Trade Manager
Region
Email
Telephone
Mike Downey
1

mdowney

[at]

vedp.org

276.201.9191
Nathan Day
2

nday

[at]

vedp.org

540.387.2562
Nancy Price
3

nprice

[at]

vedp.org

804.229.0176
Ellen Meinhart
4 - Fairfax County and City

emeinhart

[at]

vedp.org

703.506.9742
Lee Sanderson
5

lsanderson

[at]

vedp.org

804.337.3474
LeAnn Young
6

ltyoung

[at]

vedp.org

757.879.3609
Elizabeth Di Costanzo
7

edicostanzo

[at]

vedp.org

757.506.4770