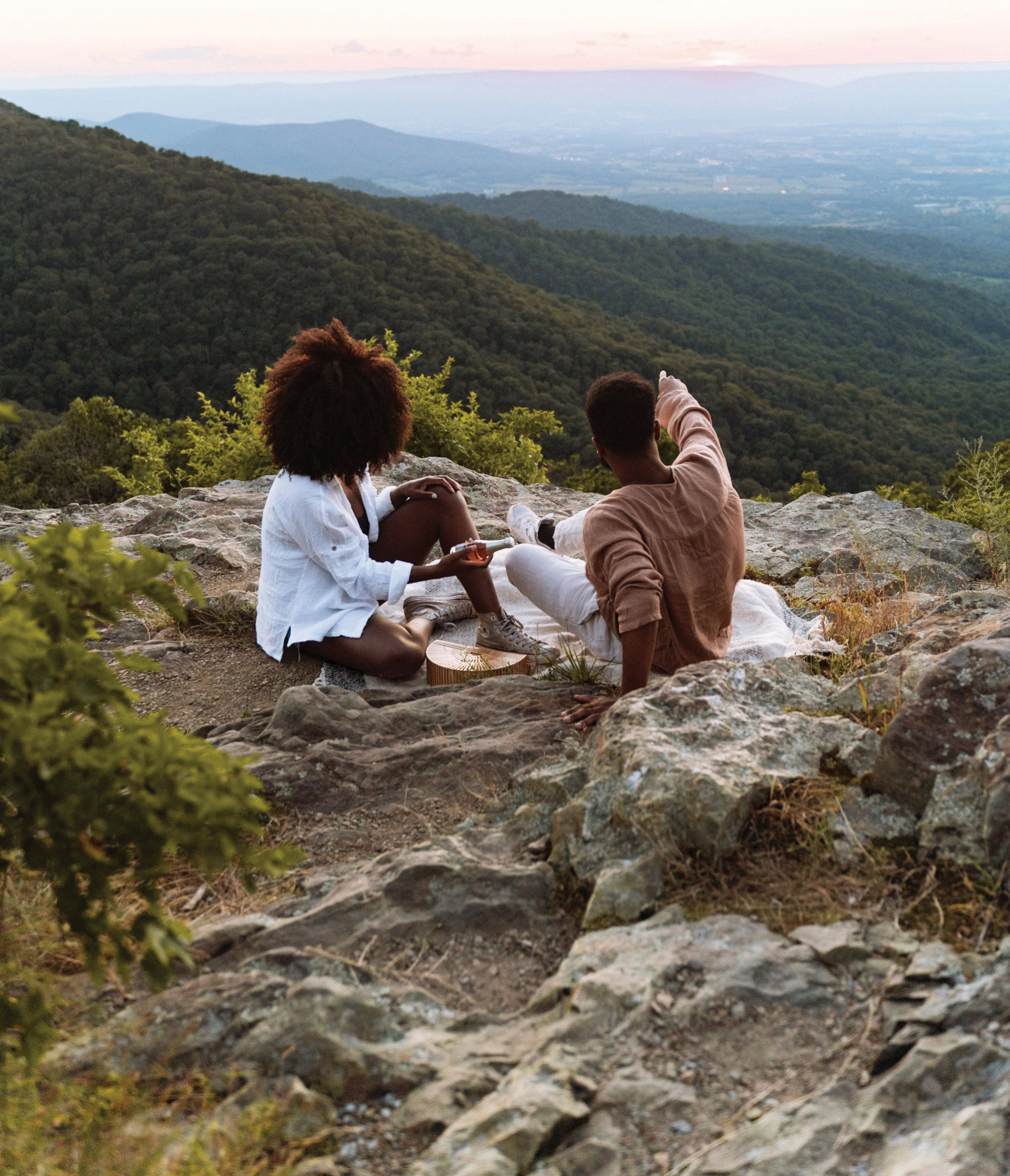 Stony Man Mountain, Shenandoah National Park
Fewer Americans can speak to the unique character of the A.T., one of two trails named National Scenic Trails when that designation was created in 1968. (The Pacific Crest Trail, which runs through California, Oregon, and Washington, is the other.) To hike the A.T. is to travel to an age when 20 miles in one direction wasn't a quick errand by car, but a serious undertaking requiring equipment and a certain amount of mental and physical fortitude.
The A.T. is as close to a time machine as man is ever likely to invent. It transports perspective just as surely as it transports the body. To walk long on the Appalachian Trail is to send one's soul traveling. The trail is built upon ancient paths — the footways trod by the mountains' original inhabitants. It provides moments of sublime isolation near some of the densest population centers in America. It winds through glacier-carved mountains that were already ancient before humans invented writing. The hills are lush, verdant, and deceptively soft, and they often surprise travelers more familiar with trails in western mountains.
Where a western trail would switchback gently up an incline, the A.T. often goes straight up at a lung-collapsing grade, then straight back down again at a similar angle. Western hikers can expect sweeping, inspiring views of snow-capped peaks and sparkling lakes on the Pacific Crest and Continental Divide trails. Hikers on the Appalachian Trail are lucky to get a glimpse of blue sky between the dense forests and thick clouds that wreathe the Appalachian peaks. Thru-hikers can generally expect to get rained on every few days, and much of their ample downtime is spent fantasizing about dry socks.
Such are the travails of the A.T.
Thru-hikers who make it to Virginia have survived several winnowing factors. People who cannot adapt to physical discomfort — hunger, cold, heat, dampness, insects, and all manner of aches and pains — generally quit within the first two weeks. Those who cannot hack the mental game — repetition, separation from family, and the machinations of their own undistracted minds — are gone within a month.
Thru-hikers who are prone to injury or don't pay close attention to minor wounds or hygiene weed themselves out by month two. Financial pressures catch up to others at some time in month three. The ones who are left — the ones who reach Virginia — are rangy, smelly, and determined to see the endeavor through. Trail wisdom holds that if you can make it through Virginia, you can make it all the way. True to form, the "Roller Coaster," a 13-mile stretch billed as one of the toughest portions of the trail because of its many rapid elevation changes, dumps northbound hikers just a few miles south of the West Virginia border in the Northern Shenandoah Valley, where the A.T. leaves the Commonwealth for good.
Virginia, then, is more than a halfway point. It represents hope in the wilderness.
Challenges and Comforts
Virginia holds more than 500 miles of the A.T. — nearly a quarter of the trail's total length. Sometimes thru-hikers feel like they've been in Virginia for years. Trail time is not normal time, and sometimes it can trickle rather than flow, particularly if hikers aren't treated to psychological rewards like crossing state lines.
So it's fortunate that the Virginia section of the A.T. has so much to offer thru-hikers. The striking overlook at McAfee Knob, north of Roanoke, is one of the most photographed spots on the entire trail. The Grayson Highlands — which include Mount Rogers, Virginia's highest peak — resemble a landscape out of Tolkien, including the feral horses that call the peaks home. The trail follows the rim of Burke's Garden, a remote, high-elevation valley in Tazewell County known as "God's Thumbprint."
Despite its location just an hour west of the hustle and bustle of Washington, D.C., Big Meadows is known for its clear skies, relatively free of light pollution, and hosts regular stargazing events. The Shenandoah River offers a chance to leave the trail behind for a time in favor of travel by canoe — a precious respite that footsore thru-hikers refer to as aqua-blazing.
Shenandoah National Park is an opportunity to beg spare candy bars off of well-fed park visitors, while the famously welcoming trail town of Damascus, just north of the Tennessee border, plays host to hundreds of past and present hikers each May with its annual Trail Days celebration.